Reawakening the Mission Rosary
1 October 2019 @ 7:00 PM

-

8:00 PM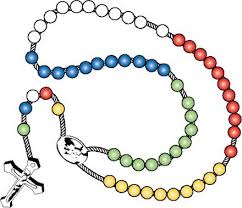 Come and join with others, as we mark the beginning of the Extraordinary Mission Month in prayer and celebration – by praying the Mission Rosary, listening to short personal experiences of living mission and spending some time in worship and adoration of our Lord Jesus. Mission Rosaries will be available.
The Mission Rosary was created by Venerable Fulton J Sheen in 1951 as a way to pray for the whole world and its needs. It is made of five different colours, each representing a different continent. As we pray each decade we remember each continent and continent and how, through Christ, we are all connected.
Africa is represented by the green decade which stands for the forests and grasslands there.
The Americas are red representing the fire of faith.
Europe is white because it is the home of the Holy Father in Rome.
Oceania is shown in blue for the oceans surrounding the islands there.
Asia is represented in yellow as a symbol of the sun rising in the East.