Advocate for the marginalised acknowledged at local International Women's Day gathering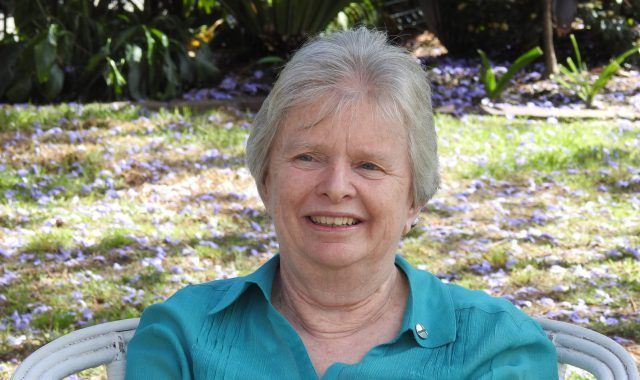 Sister Clare Condon, a member of the Congregation of the Good Samaritan was the guest speaker at the International Women's Day Breakfast hosted by the Archdiocesan Women's Taskforce on Tuesday (8 March).
Sr Clare is celebrating her Golden Jubilee and after 50 years as a professed nun she had a unique perspective to share with the women of the Archdiocese who attended the breakfast at Aranda parish's community meeting room.
As a sister of the Good Samaritans, Clare has spent her life tending to those on the margins, especially our Indigenous sisters and brothers in the remoter areas of the country.
Clare recounted some significant victories which the Good Sams fostered. Some were in education, others in health, and generally focused on justice for women and children. Clare told a poignant story of the profound impact her experience with Vietnamese boat refugees has had on her understanding of loss and powerlessness.
Sr Clare is an advisor for the Australian Plenary Council and, was able to give her audience an insight into the scope of the task ahead of the Council members. As a balance to the potential frustration some might feel, she showed the group a contrasting set of photos of membership of the 1937 Plenary Council which was comprised entirely of Bishops and the photo from last year which showed the very modern face of a church of both clerical and lay leaders.
Sr Clare was part of a very different form of Diocesan management during her time in Adelaide in the 1990s. Archbishop Leonard Faulkner introduced Pastoral Teams, comprising lay, religious and clerics who administered the diocese together. Known for its collaborative leadership, it was a very successful and effective model of power sharing. After Archbishop Faulkner's retirement, Sr Clare ministered as Chancellor for Stewardship with Archbishop Wilson for four years.
As an advocate for the poor, the powerless, the sick and the aged, Sr Clare has not walked by. Like the Good Samaritan of the famous parable, she and her sisters have stopped to help those in need.
After fifty years of humble generosity, Sr Clare said that while the victories were often small or piecemeal, they were definitely worth it!
The appreciative audience welcomed Sr Clare's thoughtful and reflective presentation and gave her a very warm ovation. It was a wonderful way to celebrate International Women's Day but all there were very aware of and praying for the women of the Ukraine and Russia.