BEFORE THE COLLAR: Fr Mark Croker
The Catholic Voice will be publishing an occasional series about the lives of priests before they took their vows. Kicking off the series is this story about FR MARK CROKER.
---
Always the shepherd
From the back door of Fr Mark Croker's Parish office at Gungahlin, you can see the bush. Rolling pastures, clumps of trees, birds leisurely swapping stories… the whole rural scene. From the front door you can see the city.
Much of Fr Mark's adult life has straddled city and country, but his roots remain firmly in the bush. It's where he is from, where he feels at home.
"When I get a chance, I like to get back to the country," he said.
"It recharges my batteries and helps me get things into perspective."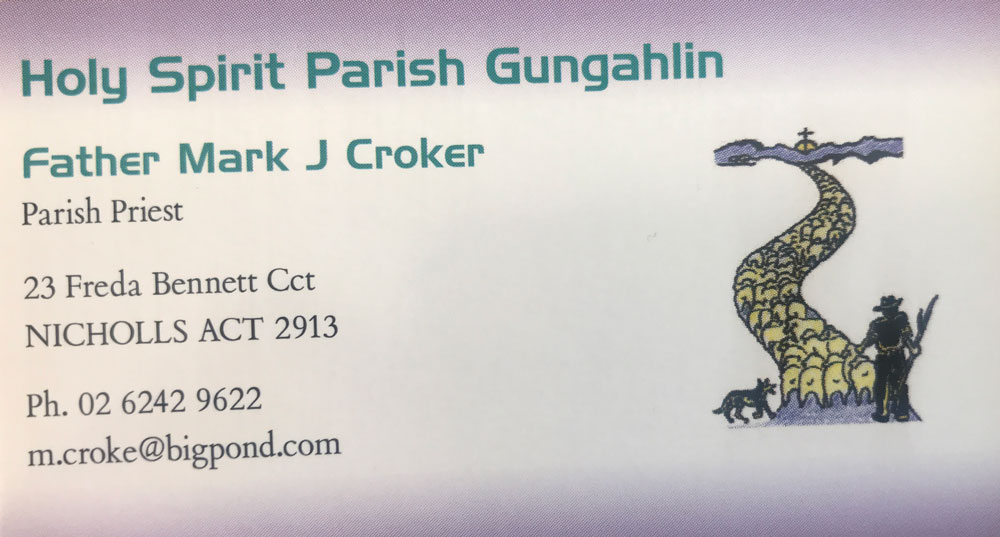 The imagery of a shepherd seems inextricably linked to him. He finds himself now alongside Good Shepherd Primary and his business card still bears an image of a shepherd leading his flock merged with images of faith. It depicts, if you like, the intersection of the two meanings of pastoral that both sit equally well with him.
One of six siblings, Fr Mark is/was a farm boy. Growing up on the family farm at Golspie near Taralga, he loved almost every facet of country life (except perhaps potato picking and hay carting) and felt that was his place.
"I was working on the family property, that was my main work, and I did that for around 14 years," Fr Mark recalls.
"We also went off the land and did seasonal work, so I did roustabouting in spring time every year. In the years before I left I tried to shear but I wasn't too flash. I remember one contractor who likes to remind me every time he sees me: 'I remember the day you tried to shear that first sheep. I believed then God had a plan for you, but it definitely wasn't shearing.' "
For what it's worth, Fr Mark didn't allow that criticism to deter him… he has shorn a few hundred but knew that he was not blessed to make it part of his full time calling.
"But I loved to work. I've always had that. I don't think I've ever been afraid of work. I wasn't ever a natural at anything, even in sport, but I always pushed myself, trained hard and tried to do that extra yard," said Fr Mark, who despite his own self-deprecating assessment, was good enough to play in the First XV at St Pat's alongside another talented young farm boy, Simon Poidevin who'd later play for and captain Australia.
"I think it ingrained in me an ethic, both from my family and school, which I guess you could call a work ethic. I worked hard and I played hard. That was probably how I lived after school, without taking responsibility. But as I was working I was learning."
Fr Mark's farm carried cattle and sheep. His dad was a very good stockman and Fr Mark felt it was only natural to follow the example he'd been set. He described his dad as a tremendously hard worker, and so the kids tried to be too.
"You'd go out and do your job whether it be working with sheep, working with cattle, fencing, shearing, crutching, even hay-carting," Fr Mark remembers.
That last, hey-carting, is the job Fr Mark lists as the worst job, or hardest job, he's ever had. Long days, scratching and sweating from dust in your eyes and lungs, and temperatures around 50 degrees in the hay sheds. He also wasn't particularly fond of spud picking. But you took the good with the bad.
Despite his great love for the land, it wasn't always idyllic. It never is. There were many tough times. He remembers the drought of 1983 where he had to help shoot the family's sheep because they couldn't feed them and couldn't give them away. Farmers pride themselves on looking after their stock and it's one of the toughest things a farmer has to do.
"But I worked on the farm for 14 years… working with dad… and I loved it. He was hard-working but I have to say he was also tolerant. There were a number of times after some good weekends at footy or B&S Balls where I was a bit dusty on a Monday morning, but he put up with it."
For Fr Mark, his calling wasn't a sudden epiphany. There was no road to Damascus moment, nor for that matter on the roads to Golspie, Taralga or Crookwell. It was a slow burning call that, like the crops he tended, took root inside him and grew over time.
Once a shearer, now a shepherd – by PETER KEARNEY… written about Fr Mark
"I guess I had some thoughts right back to Year 12 when Fr Greg Beath asked me if I had ever thought about being a priest," Fr Mark explains.
"I denied it, but the thought remained. I was about 28 when I started to give it serious thought, and it was just as I was coming up to my 32nd birthday that I was clear and ready to begin my journey to becoming a priest."
"When I think back to when I left school, I was asking myself the big questions, but I had a lot of insecurity to deal with… that lack of confidence to do things. I wasn't great at school, my results weren't much, but I tried.
"I think the things I learned innately from home had a greater impact, the old way of learning through hearing stories, the idea of helping people, of working hard and community. I loved that. We all did. It runs in my family.
"And I think that love of story-telling, my love of nature and creation and what was happening in my heart all came together."
At school, Fr Mark took on leadership roles where he could, although more often as a vice captain than a captain… always the bridesmaid, in his own words. But it all played a role in developing a sense of responsibility, a sense of stepping up and challenging himself.
To battle his lack of confidence, Mark participated in amateur drama in his twenties… even then vaguely aware he needed to prepare to stand up in front of people.
He played both codes of football, often playing union on a Saturday and league on a Sunday, and even had a crack at coaching.
Towards the end of his playing career he was lured into co-coaching the Crookwell Dogs social but competitive reserve grade side, or "F Troop" as they were called. They were, as he recalls, a fine collection of men, many of whom were recruited into service from pubs and clubs the Friday before the game, or in a state of disrepair early on the actual day of the game.
With former Wallaby Phil Clements by his side he felt they could beat anyone. But he was wrong…they didn't beat anyone. And after a season devoid of wins the two were given special trophies… one for bowls the other for darts, since the players thought perhaps they should try another sport. And with that, his coaching career was dashed.
"But as I got older and took on a bit more responsibility, I saw sport wasn't the most important thing in the world and I began to begin thinking more about my purpose and how I wanted to spend my life," he said.
All the while… working the farm, being an example to young men on the field… his call was growing, slowly but insistently, until just before the age of 32 he committed to the seminary. And even then, though he had the certainty of purpose, with genuine humility, he doubted that he was good enough.
"When I went to the seminary I had a nun who was my spiritual director, and I remember saying to her `I'm not very holy, I don't know what I'm doing here. I don't see myself as being great at praying,' " Fr Mark recalls.
"And she said `you boys from the bush, you are in touch with creation all the time. Whether it be fires and droughts and floods, whether it be a new born lamb or calf, all of those things… you're in touch with the weather, if it's going to rain, what the season needs and promises, whether you can put your crops in if they'll grow. You have a very real connection to the world, and to the creator.' "
So while it wasn't a sudden progression to the life of priesthood, it was a natural one.
"As a farmer, or a shepherd, you look after your flock, keep them safe… you're shepherding them all of the time," he said.
"I guess a lot of those ideas transfer across to the roles of a parish priest. You look for where more nurturing is needed, for where there are obstacles and dangers. Where people are suffering and in need of help, be that spiritual, physical or mental. And just as farmers are concerned with looking after their environment, we are as priests. I think there are definitely some similarities."
Once a shepherd…