Energetic young Catholics meet for leadership program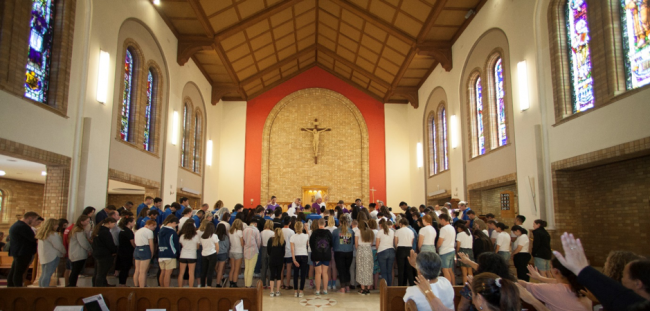 MORE than 160 young Catholics from India, the Philippines, Tonga, Fiji, New Zealand and Australia gathered in Canberra recently for a leadership program to help them in their parishes, schools and youth groups.
The energetic Catholic leaders assembled for a weekend for the CSYMI Youth Ministry Equipping School.
A partnership between the Archdiocese of Canberra and Goulburn and the ACU La Salle Academy, the school is aimed at youth leaders in parishes as well as people studying to be teachers and early career teachers.
Each of the four streams at the school had keynote speakers and workshops. The groups were the 'Youth Academy', 'Signum Fidei' (for ACU pre-service and early career teachers), 'Youth Ministers' and 'Leaders'.
The international guests, who added a wealth of experience as well as vibrant expressions of their faith and culture, included:
James Mafi and his team of youth ministry leaders from Tonga,
Stephen Borja from the Episcopal Commission for Youth and a team of teachers from the Philippines,
Leon Robertson and Laura Smith from New Zealand,
Sr Katarina Tinai and a team of educational and church leaders from Fiji, and
Fr Jimmy James and Br Thomas Thankickal from the All India Catholic Schools Association.
The Equipping School has been going for more than 10 years and has been a great success. Comments from students show the terrific impact it has had.
"I attended the Equipping School Program for 2020 and it was an experience I will not forget. I met some amazing, inspirational and motivational young individuals … The program allowed me to become more open minded, accepting and giving and to deepen my faith." Student, Merici College
"I really enjoyed the night-time experiences. Everyone was so reverent and it was beautiful to participate. I was in awe at the sense of community, belonging and acceptance". Student, Trinity Catholic College
"It was one of the best decisions I have made to attend the Equipping School. I made so many new friends who I can share my faith with". Student, MacKillop College
"As a fourth-year education student the Signum Fidei stream has given me opportunities to grow as a teacher. I've been able to meet so many great people and seen the work of the Holy Spirit". ACU Pre- Service Teacher, Melbourne
"As an early career teacher, I've been really unsure about how to integrate Religious Education in a positive way in my classroom. The Signum Fidei stream has helped me to create a vision for RE in my classroom and the practical skills to implement it". Early-Career Teacher, Canberra.
"The warmth and welcome of the Equipping School goes hand in hand with its purpose to lead people to encounter Christ and share this love". Leon Robertson, Aquinas College New Zealand
"The Equipping School is an instrument of change in the life of the church now. It is the newest and best approach with the New Evangelisation today. James Mafi, Youth Coordinator Tonga