Five minutes with Elizabeth Trongale
Ahead of the Canberra Catholic Bookshop's upcoming "Fireside Chats" with visiting authors, the Catholic Voice asked new manager Elizabeth Trongale to tell us about herself and her plans for the shop.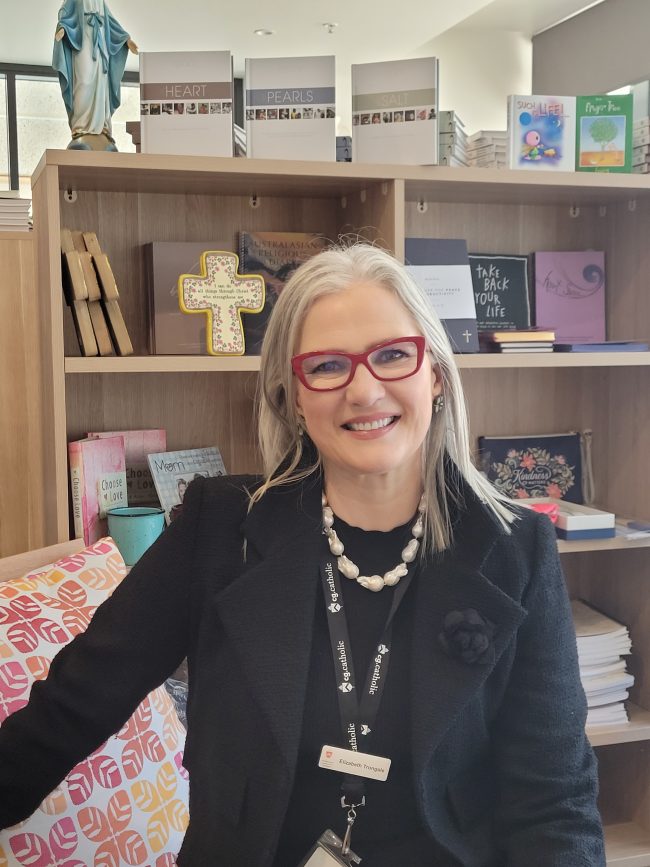 You obviously love books. Did you come from a family of bookworms?
Actually my father was in medicine, and travel played a big part in our family's life. I was born in the north of England.
Do you have a favourite book?
Books have been friends and a great gift to me. One stands out: "Eat, Pray, and Love" by Elizabeth Gilbert.
How did you end up in Australia?
We came to Australia when I was about eight and settled in Austinmer on the Illawarra coast. Australia is always home.
But you didn't stay?
I wanted to travel. After finishing university studies, I set off overseas and ended up in the USA. I met my first husband there. When the marriage broke up I had a young son and was feeling lost and disheartened. I returned to church and found stillness, peace, and solitude there. I lived in Chicago for 30 years.
How important has your faith been to you?
Very important. My mother would take us to Mass as often as possible. Her faith sustained her. She has been a great example of living to me.
What brought you back to Australia?
I met a wonderful American who had a great love affair with Australia. We had an opportunity to come back, and we did.
When did you start as the manager of the Catholic Bookshop?
In October 2020. My faith has given me peace in my life and I hope that people who come through the door will find a stillness and a refuge and maybe a book that helps them. They'll also find three great staff members, David, Anne and Katie and two wonderful volunteers, Hanna and Linda.
What are your plans for the store?
We are excited by our upcoming 'Fireside Chats' where we will have local authors, travellers and story tellers sharing their stories on the first Friday of each month. The first will be Friday 7 May at 1.30pm. Everyone is welcome.
Who are six special people you'd invite to a dinner party?
Number one, would have been my father. He died in 2018. There's not a day that I don't think of something he taught me. Then I'd invite my son and his wife and my husband. After that it would be Mahatma Gandhi and Pope Francis. We'd discuss the world's challenges and how we could do our part to make a difference.