Goulburn farewells renowned horseman Reg Willoughby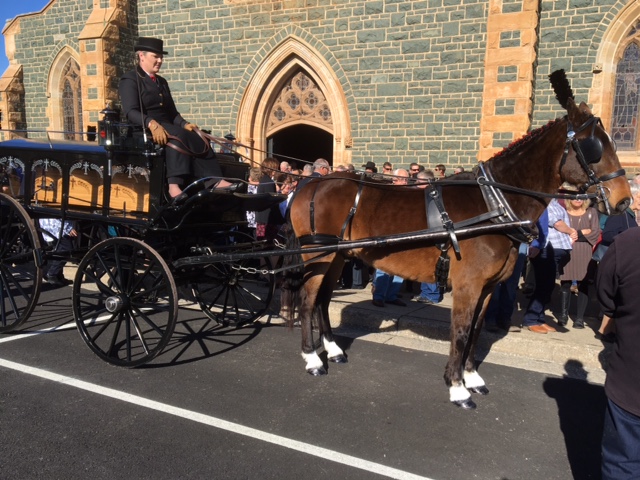 Sts. Peter and Paul's Cathedral, Goulburn was packed to capacity for the Farewell Mass of Reginald Anthony Willoughby, celebrated by Fr. Mark Croker.
Reg was born in Crookwell, on July 24th 1934, the 10th child of 17 siblings to Sarah and William Willoughby.
Behind his quiet, reflective and unassuming personality, was a man of deep faith, whose love of the Church and Eucharist, were his strength and comfort throughout his life.
Reg grew up riding horses… it was in his blood! He left home to pursue an Apprenticeship as a Jockey, and although he had some success in riding, he chose to turn his hand to breeding and training instead, which took him to places throughout Australia.
During a stint in Mackay QLD, Reg met his future wife, Nita Larkham. In time they married and returned down South to settle for a happy home life in Goulburn, where they raised their five Children.
Around the District Reg soon became known for his many talents and skills in horsemanship, earning him respect, admiration and many lifelong friends.
He involved himself in town and district events, and was a founding member of the Goulburn Rodeo Club, with the proceeds raised from the Annual Rodeo donated to Charities, such as Legacy, and in 1968 to the Sisters of Mercy.
Reg's passing leaves a hole in many hearts, but his memory lives on through his children grandchildren, and great grandchild, who have inherited his deep love of horses; his giftedness in plaiting and whip cracking, and his unique presence as a "horse whisperer."
In a final gesture, Reg's remains were carried to his resting place in a horse drawn carriage, where he was laid to rest with his beloved Nita, in the Lawn Cemetery, Goulburn.
This tribute written by Sr Lorraine Cupitt, Reg's niece.