Labour of love brings comfort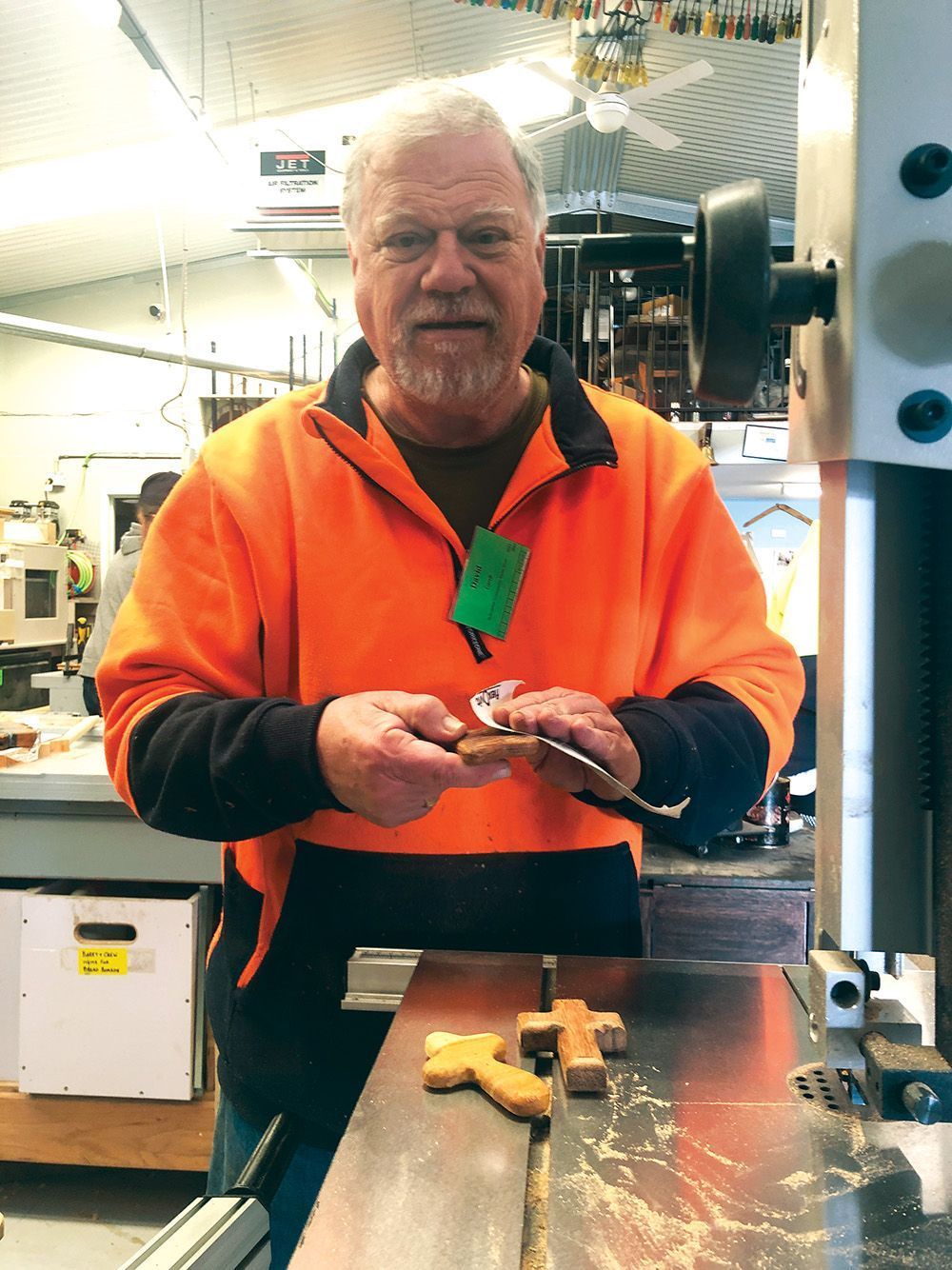 The cacophony of buzzing and grinding coming from the Belconnen Community Men's Shed behind the Page shops in Canberra on a Saturday morning is unmistakable.
This is a bustling workshop, filled with bandsaws, scroll saws and sanding machines to routers, lathes and even a 3D printer. There are a dozen or so men operating them, along with an array of hand tools, under a sign declaring: "Every bloke is a champion."
The scene is scented with freshly milled sawdust and completed with items of wood and metal work in various states of production.
Among those items is a box of 151 (and growing) holding crosses, part of an eventual consignment of 200 destined for the Calvary Haydon aged care facility in Bruce. The crosses are given to comfort residents who are sick, dying or agitated.
That thought makes David Gorell happy. David is one of the men who handcrafts the crosses in the workshop and, although he is "not religious in any way", he appreciates the role the crosses play.
"I feel as though I am doing something for the community, by helping someone who is in dire straits in their life," he says.
Calvary Haydon buys the crosses for 50c each, although the selling price doesn't take into account the time and care the men put into them.
"They are a fairly simple design, but we try to vary it," David says, pulling out half a dozen examples.
Most are made with offcuts of Australian hardwoods, such as merbau decking, and the design is often decided by the type and size of the wood pieces. But what they have in common is a fairly uniform size – made to sit comfortably in a frail hand – and carefully smoothed surfaces and edges.
The crosses are usually cut into shape with a fine-bladed scroll saw and fine-tuned using routers and sanders.
David, who retired seven years ago after 42 years working as a civilian with Defence, spends about five hours a week at the Men's Shed. About two-thirds of that time he makes crosses, along with a smaller collection of 'holding' hearts and animals for people who are not religious.
He often thinks about the people who use the crosses. "You just hope it makes their life a little easier in some way," he says.