Rolling off the presses: our Archdiocesan publications
Our monthly diocesan newspaper, the Catholic Voice dates from June 1988, so later this year it will celebrate its 32nd birthday.
The Voice is the fourth in a line of newspapers which have served our Diocese of Goulburn (and Archdiocese of Canberra and Goulburn from 1948).
Long-standing members of the Diocesan community may have memories of The Angelus (1923–1925 and 1927–1953) which was started by Fr Patrick Haydon for the early Canberra Catholic community.
The earliest issues of The Angelus pre-date the creation of the Canberra parish in 1928 while Fr Haydon was still parish priest of Queanbeyan.
Also dating from the 1920s was Our Cathedral Chimes, produced from the then Cathe­dral Parish of Goulburn, and running from 1928 to 1958.
The creation of the Parish of Braddon in North Canberra in 1955 saw a new publication The Sanctuary (1956–1962 and 1965–1968).
We will write more about these papers in future issues. Note that the last of these papers to fold was The Sanctuary in January 1968.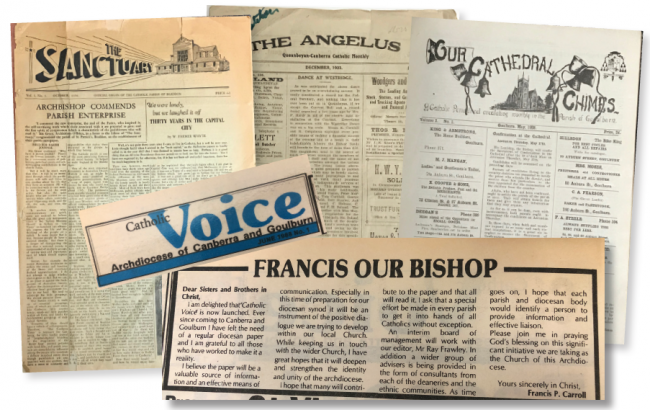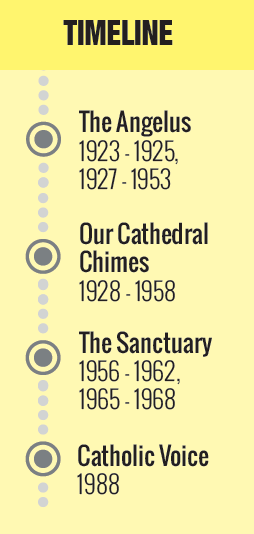 After an absence of a diocesan paper for more than 20 years, issue number one of the Catholic Voice came out in June 1988.
The foundation editor was Ray Frawley, supported by a management board comprising Archbishop Francis Carroll, Helen Lister (chair), Ray Frawley, Herbie O'Flynn, Fr Bill Kennedy, Sister Marie McAlister, Bren Milsom and Barbara Waugh.
The stated intention of Archbishop Carroll and the board was that the Voice should be available to every Catholic home across the Archdiocese, with principal points of distribution being all churches/mass centres and every Catholic school. It has always been free.
The first issue of the Catholic Voice featured two lead front page stories. In one, Archbish­op Carroll highlighted recent attention given to the level of poverty in Australia.
The Voice covered three of the Archbishop's recent public events where he urged Catholics to remain mindful and be sup­portive of projects to alleviate hardship and poverty.
The front page story reported the Archbishop's statements at the blessing and opening of the Holy Family Parish School, Gowrie. He made similar remarks to the National Catholic Education Commission Confer­ence (held at the University of Melbourne) and the Conference of Catholic School Principals that was held locally.
The second front page story referred to the Christian National Gathering in Canberra that coincided with the opening of the new Parliament House in May 1988.
The story noted that some 50,000 people from across the country took part in the prayer march that encircled the new building, prior to an overnight vigil.
Participants represented the full range of Christian denominations and traditions represented in Australia. Archbishop Carroll attended along with Bishop Pat Power (Auxiliary Bishop of Canberra and Goulburn) and Anglican Bishop of Canberra, Owen Dowling.