St Eddies reflects on 2018 in final school Mass of the year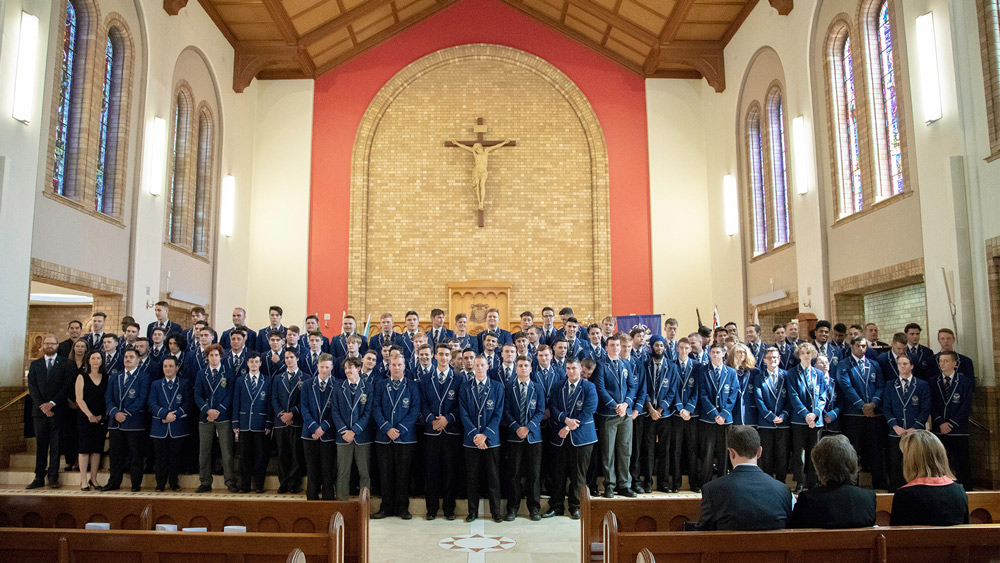 On Friday November 30, St Edmund's gathered at St Christopher's Cathedral for the final time this year to celebrate Mass as a College Community and to mark our Year 12 boys finishing their schooling.
It was a full day that started with Mass. It then progressed to an academic awards ceremony and was fittingly finished with a Graduation dinner at the Southern Cross Club.
Throughout the day there were final Student Leaders speeches where they shared their final thoughts, staff reflections about what it means to be an 'Eddies Boy', guest speakers sharing their thoughts on how to live life to the full and also a parent's reflection about what the community has given their son.
Each presenter shared their own thoughtful and considered response on certain themes around how to live a Life. All individuals highlighted varying perspectives and outlined their own personal advice and suggestions which struck a chord with all who were present.
Most important lessons
In reflecting on all of these different presentations it brought to the surface a difficult question that I have been considering. What would be the most important lesson that our boys leave the College with?
There are many immediate thoughts that spring to mind, for example to become a critical thinker and question the status quo and perhaps the confidence to be counter cultural. A problem solving ability to navigate life's daily challenges. Perhaps a sense of humour to respond to certain situation with a joyful optimism and not taking life too seriously.
Sunday's Gospel affirmed a consideration that I have been pondering over the weekend and that is prayer is possibly the greatest lesson that we can offer our boys.
"Stay awake, praying at all times for the strength to survive all that is going to happen, and to stand with confidence before the Son of Man." Luke 21: 25-28.
This passage withdraws some reflective questions. What do we arm ourselves with to help us deal with all that is happening? What will give us strength and confidence to persevere and succeed in some form?
Power of prayer
Below is a short list of the power of prayer, that I have witnessed over the last ten years walking with young men throughout their secondary education.
Prayer brings a stillness to young men's lives. When we are still and conscious, we can consider meditatively where our thoughts are placed. It brings an awareness to what is happening around us, it brings an awareness to those around us, it brings an awareness to what is important and what changes are needed in their life through God's Grace.
Prayer avoids distraction in young men's lives. When there are so many distractions that can preoccupy our minds and bodies. As it says in Sunday's Gospel "watch yourselves or you hearts will be coarsened with debauchery and drunkenness and the cares of life, and that day will be sprung on you suddenly, like a trap." The distractions of life can be overwhelming and misleading though through stillness and silence we can learn to master these by being present and "being awake" to them.
Prayer enables discernment in young men's lives to choose the correct path for the individual. Our boys are questioning the next step and will continue to consider the options in front of them. Many have made decisions around their given direction and many have not. When we surrender our possible fears, anxieties and questions that we have in deciding which path to take in life, we allow ourselves to be open to growth and listen to what God is saying to us.
Through their College life our boys have learnt many skills that will equip them for life after school and an appreciation for prayer in my mind is right at the top of the list. As well-known author Tim Chester puts it "Prayer is the conversation of friends. It is not a mere convenience for letting God know what we are thinking or what we want. Prayer is that for which we were made."
I hope that all the young men that have left the College can take with them and appreciate the power of prayer in their lives as they confront the next step in their journey.
A prayer
Dear Lord,
"Ask, and it shall be given you; seek, and you shall find; knock, and it shall be opened to you." Matthew 7:7
We pray that our young men take with them the power of prayer in their lives after St Edmund's. May they surrender all concerns at your feet. May they give thanks for all they have. May they be grateful for each day. May they treat their neighbour as they would like to be treated.
Blessed Edmund Rice…Pray for us
Live Jesus in Our Hearts… for ever
Amen
Source: Michael Monagle, Director of Mission and Identity