St Mary's celebrates 100 years
St Mary's Primary School in Batlow celebrated a momentous occasion this week, with the school marking its 100th anniversary on Monday.
Students, staff and the wider community have been counting down to the significant milestone for the past 100 days, and the highly anticipated event did not disappoint.
"Oh, we had a wonderful celebration," principal Jannine Richards said.
"The weather was perfect. We had so many people from far away and so many locals as well. It was incredibly special."
Festivities ran over two days, with the community gathering at the beloved school on Sunday and Monday.
"On Sunday we had open classes for two hours in the morning, and we had so many photos strewn all over the desks and displays through the school," Mrs Richards said.
"Some people from away who were here in the 1940's came back into the school and they hadn't set foot in it since they left in Year 6. And they met people who had been in the same class as them. And that was just amazing!"
Mrs Richards said she had been overwhelmed by the turnout.
"The school was full, and they just wanted to stay and chat," she said.
"It was extraordinarily special."
Excitement peaked on Monday morning, with a re-enactment of the school's origin.
100 years ago, the three Sisters of St Joseph's – Sr Alacoque, Sr Rafael and Sr Rita – arrived in the parish and began teaching in the old wooden Church with eight students.
The eight students were Lilly O'Grady, Kathleen O'Grady, Esme Higgins, William Butz, Kevin Glynn, Edward Connors, Vincent Townsend, and Arthur Arentz.
"We were all waiting for it," Mrs Richards said.
"And then this huge Clydesdale came around the corner pulling a cart with three nuns in their black and white habits, waving and being driven by a beautiful local lady. People drew their breath. It was stunning. Everyone was just in awe of this magnificent horse as it came onto our playground. The whole playground was applause and cheering. And then we rang the gong, and we all walked into church."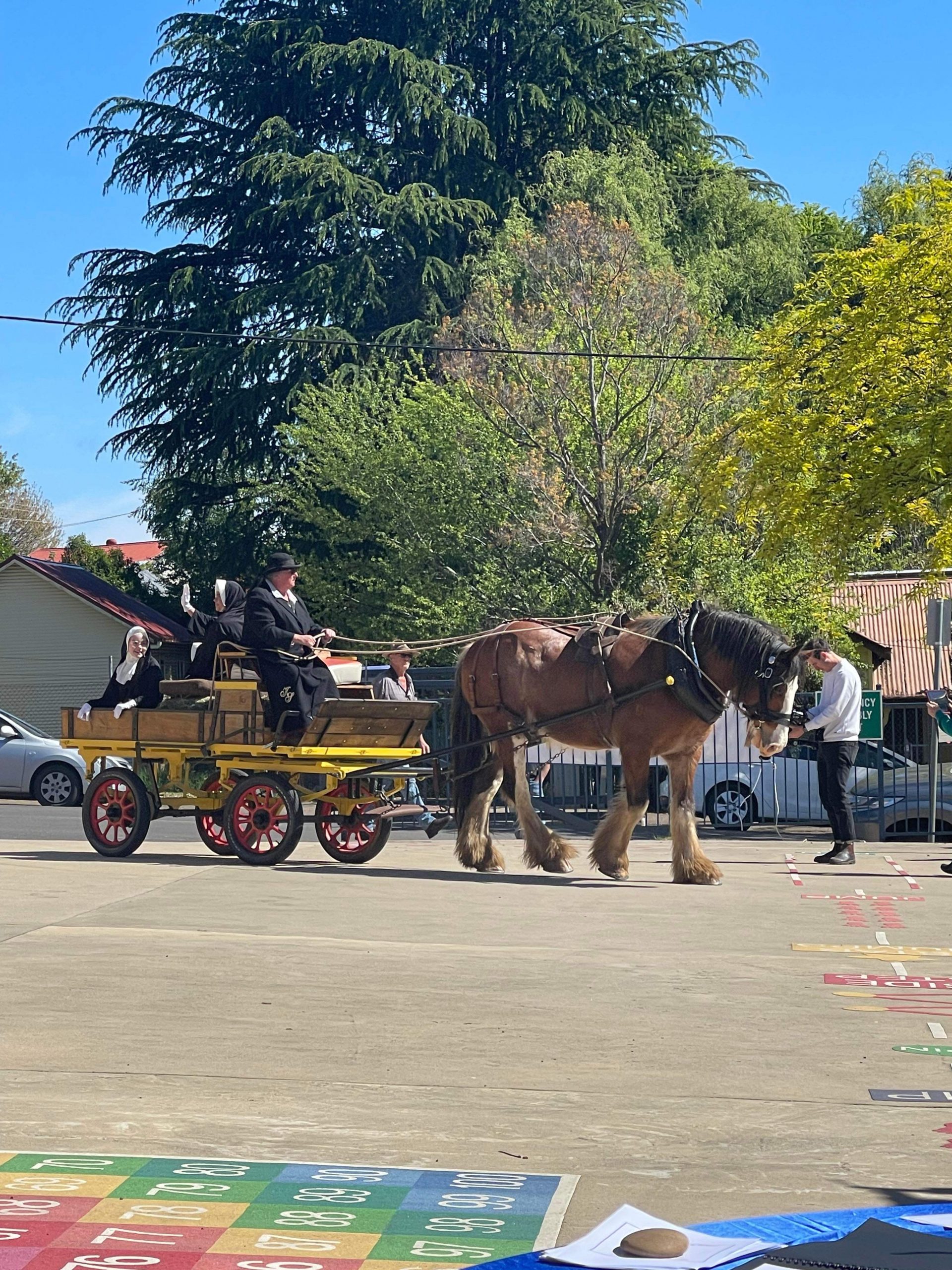 Vicar General Fr Richard Thompson, St Mary's parish priest Fr Joseph Neonbasu and Pambula parish priest Fr George Ogah concelebrated the anniversary Mass.
Mrs Richards said the small school's 31 students felt honoured to be part of the history of St Mary's.
"This was their celebration because they are part of it," she said.
"The kids have loved the weekly countdown, marking each day and counting backwards. And this was the culmination. You should have seen us on the playground. It was absolutely, overwhelmingly wonderful."