The Wright stuff for ACT Volunteer of the Year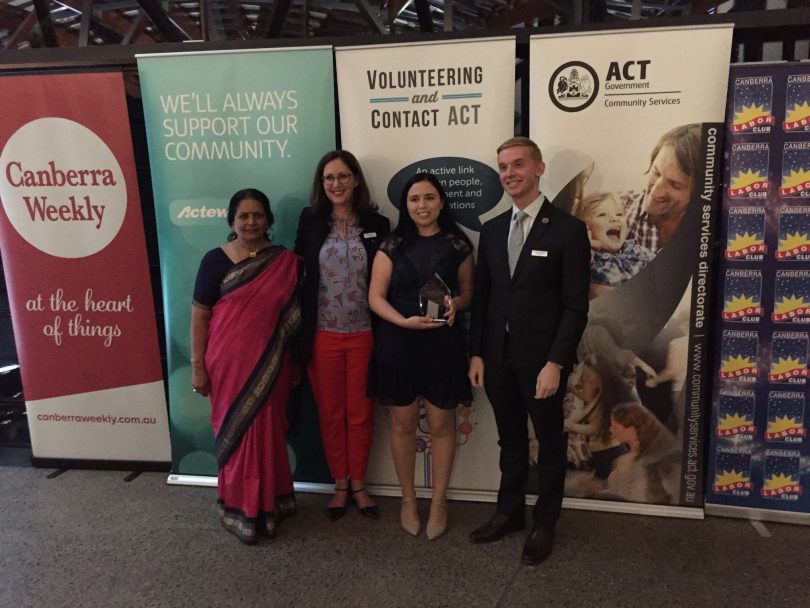 By LACHLAN ROBERTS
A PRIMARY school teacher who ran a social justice group for her students and taught them how to make the time to give back to others has won the 2018 ACT Volunteer of the Year.
Natalie Wright received the award at the 2018 Volunteering Awards for her volunteer work with St Vincent de Paul Society as a coordinator for Mini Vinnies, a social justice group for primary school children.
The program encourages students twelve and under to volunteer their time to fundraise and advocate for social justice issues such as homelessness.
Ms Wright started out with a group of 25 students and over seven years, her group grew to 125 kids, becoming the largest Mini Vinnies group in Australia.
The 31-year-old primary school teacher prefers to work away from the spotlight but was happy that volunteer work was given the recognition it deserves.
"I find all the attention a little uncomfortable, to be honest, but it is great to promote my school and St Vincent de Paul and obviously for volunteer work this week, which is fabulous," she said.
"When I first started teaching at Good Shepherd seven years ago, they had a humble group of 25 students in their Mini Vinnies group, and over that time we expanded it to up 125."
"My goal as a teacher was to bring my two passions, teaching and social justice reform, together and to work with the homeless community and bring that knowledge and experience to my students.
"I hope that many of the kids that I have worked with are now volunteering in any capacity, whether that be at St Vincent de Paul or at another organisation.
"I just hope they are giving back to their community."
The CEO of Volunteering and Contact ACT, Vicky Darling, said they had received a record number of nominations for the awards in 2018.
"We received almost 100 nominations, which is a record-breaking year for us, and it goes to show how essential volunteering is in our beautiful city," she said.
"Natalie is a strong advocate for social justice and a wonderful example of how a young person with a busy career can make time for volunteering."
Ms Darling announced that Canberra has the highest rate of volunteering in the country, with 36 per cent of Canberrans volunteering in some capacity.
"The 2018 nominees were outstanding and represent what it means to be a Canberran. It was our pleasure to host the awards for the 27th year and celebrate volunteering's contribution to our community," Ms Darling said.
Other category award winners include:
• Volunteer Team of the Year Award: The Big Heart Project Committee
• Senior Volunteer of the Year Award: Delia Quigley
• Young Volunteer of the Year Award: Allanah Marshall
• Profound Influence of the Year Award: Andrew Prowse
• Innovation Award: Fiona Jarvis
• Thought & Leadership Awards: Andrew Gradie
• Corporate Volunteer of the Year: Beyond Bank Staff.
This article is used with permission and was first published on May 29 on https://the-riotact.com