Waste Warriors, Bin Monitors and Nude Food
Sure, there's no substitute for good old fashioned book learning. But there's a lot more going on at schools these days than just readin', writin' and 'rithmetic. At St Mary's Primary School in Moruya, for instance, the students are learning all about Waste Warriors, Bin Monitors and Nude Food.
St Mary's Special Needs Assistant Janet Ryan picks up the story.
"Annie Johnson has been the driving force behind the initiatives we've been implementing here that are all along the lines of recycling and sustainability," Ms Ryan said.
"We started a while back with nude food days and they've been very successful. The idea is that you bring in food that has no wrapping and packaging and we were doing that once a term. But it's been so popular, we're once a week now… every Tuesday. And the lunches are beautiful."
The next step for the school was a bin audit. Yes, bin audits are an actual thing.
"We did it about a month ago, and it was disgusting," Ms Ryan said.
"We found that 98% of our rubbish was recyclable, and only two per cent should have been thrown out.
"We had been paying a huge amount for rubbish collection so not only were we not disposing of our rubbish well, we were also paying a lot more than we needed."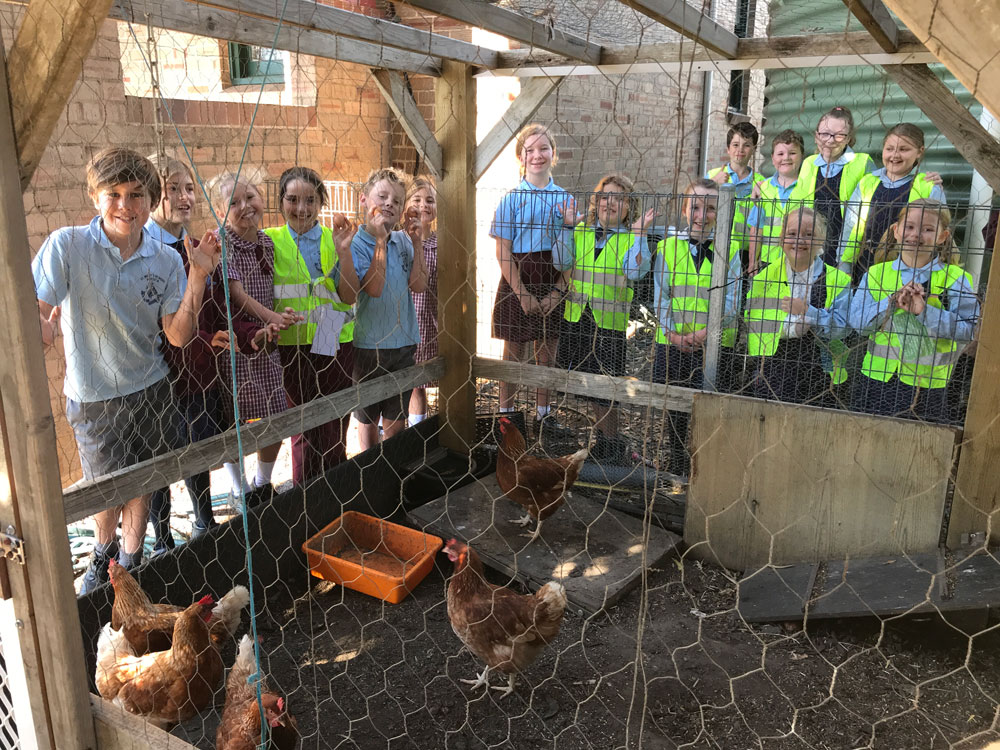 The teachers got the students in and showed them through the bins. The local Council also came and did a presentation, showing what some other schools have done. The students were inspired and wanted to be part of a solution.
"So we put together this team, the Waste Warriors," Ms Ryan continued.
"And they've really taken to it. They love it, they have special jackets that they wear and they're very proud of minimizing waste.
"We set up fruit bins, which are being monitored by the kids, and a lot of the food scraps are going to the Chooks. We've had chooks for a while but that hadn't been happening to any great extent.
The school now has fewer bins, and a number of the kids act as Bin Monitors to keep an eye that the right things are going into the bins, and that they aren't overflowing and making a mess.
And the chooks aren't just there for their scrap eating capabilities. Along with giving the students experience in looking after the animals, the hens are also productive and the students sell those eggs along with fruit and vegetable supplied by families.
All of these individual initiatives have come together as a comprehensive program about making better choices. From reducing rubbish, improving diets, and initiating sustainability projects, the end result is a holistic exercise that, through small steps, has had an effect on teachers, students and their families alike.
"It's a slow process, but it's making a difference," Ms Ryan said.
"We, as teachers, came on board, then the kids, then their parents became involved by packing suitable food for nude food day and supplying fruit and vegetables for sale and egg cartons for our chook eggs. It all makes a difference."
Ms Ryan is particularly pleased that these initiatives haven't simply been forced upon the students and that they have taken to them enthusiastically.
The waste warriors meet every Wednesday, and are involved in creating a tree mural for an environmental competition.
Around 30 kids attend breakfast club each morning and are getting used to washing up plates and utensils rather than using disposable items that further fill up the bins. Previously, they had been throwing away a garbage bag full of rubbish every day. Now, none. There's a bit more washing up involved but so far the kids haven't minded at all.
The students have also designed the signs for the bin, the logos for the egg cartons and have given waste talks to other students in the school.
Janet readily admits that many of these initiatives were inspired by things they'd seen at other schools.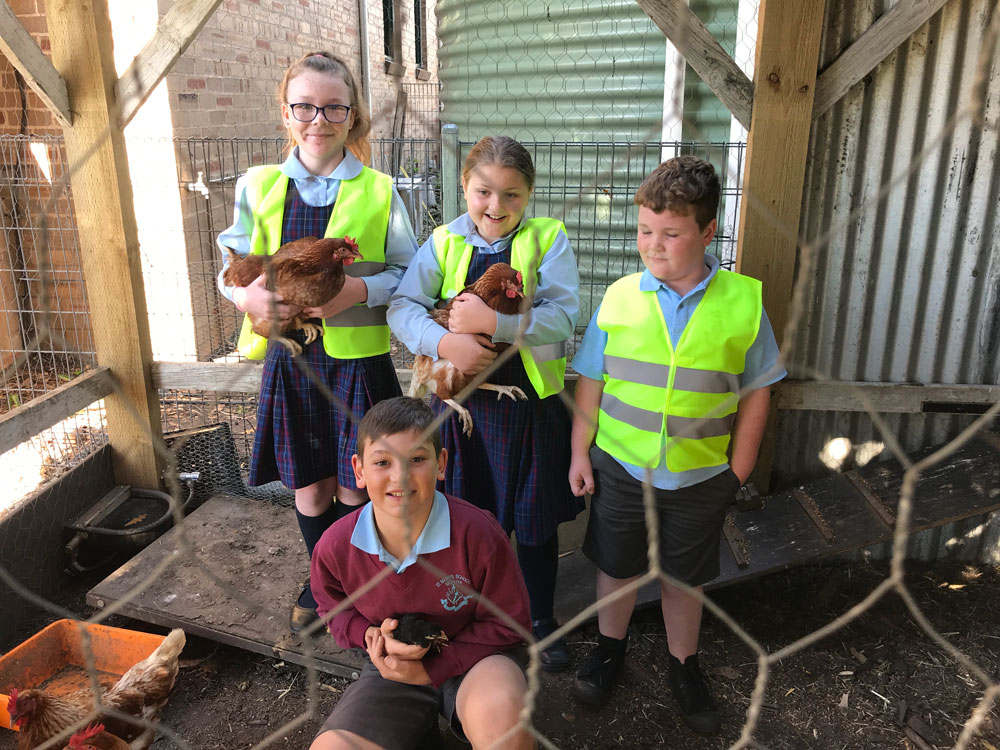 "Carroll College are doing some of these things, as are some other schools around here," she said.
"The reason we started down this track is because a couple of the teachers went down to Lumen Christi College in Pambula. They walked into the yard and the first thing they noticed was that there was no rubbish anywhere."
"So we didn't come up with all of these ideas off our own bat, but just as we were influenced, maybe this will influence someone else to make a start."
So popular have these initiatives been that the school intends to expand them even further.
There are plans to increase the size of the chook yard, and the manure will be used in the fruit and vegetable gardens at the school. There is already a worm farm generating compost.
St Mary's has joined Sustainable Schools Australia and are now selling the things they grow in the gardens along with the eggs. Down the track they intend to be making their own bees wax as well.
"The Year 4s have really been into this, and all of the other classes are doing something Ms Ryan said.
"I think they've not only learned a lot, but are proud to be making a difference."