50 years of keeping the flame alive in protecting human life
Politicians, clergy, university students, mums, dads and retirees packed the 50th anniversary celebration of ACT's Right to Life Association.
The evening at Canberra's Southern Cross Club was a time for reminiscing and a call for vigilance from Tasmania's Liberal Senator Eric Abetz, retired ACT MLA Vicki Dunne and Fr Trenton van Reesch, on behalf of Archbishop Prowse.
Long-term advocate Bev Cains was praised for being the "pro-life stalwart" who "kept the flame alive in protecting human life".
An original member of the association, Nick Stuparich, who took part in the 1970s demonstrations outside Parliament House against local abortion clinic proposals, showed his passion for pro-life issues had not wavered.
"In a way, it's easy to be passionate about it," Mr Stuparich said. "To me, it makes so much sense. You can't decide that life at a particular stage is not life.
"I can't understand how people can rationalise that a baby that develops and continues through a process is not alive at one stage but alive in another stage. So, the whole argument seems quite irrational to me.
When asked about his hope for the next 50 years, Mr Stuparich noted the table of young people next to his.
"Having a strong belief in God, a proper attitude to life and the courage to speak up is essential," Mr Stuparich said. "Although things look bleak, God works in mysterious ways."
Ms Dunne, who has been involved with Right to Life since the 1980s, shared about her battles in the ACT Legislative Assembly,
"As we look back on the history of the association, we see how things have changed over the last 50 years," she said.
"There aren't those pro-life votes in the ACT Assembly or the Commonwealth Parliament that there once were."
Referring to the Osborne Bill, Ms Dunne said that as a politician, "we don't always get the result we exactly want; however, I believed that any result that is an improvement is worth fighting for. And the Osborne Bill was worth fighting for.
"During that time, we collected statistics about the number of abortions for the first time and compared those with medical statistics from Medicare.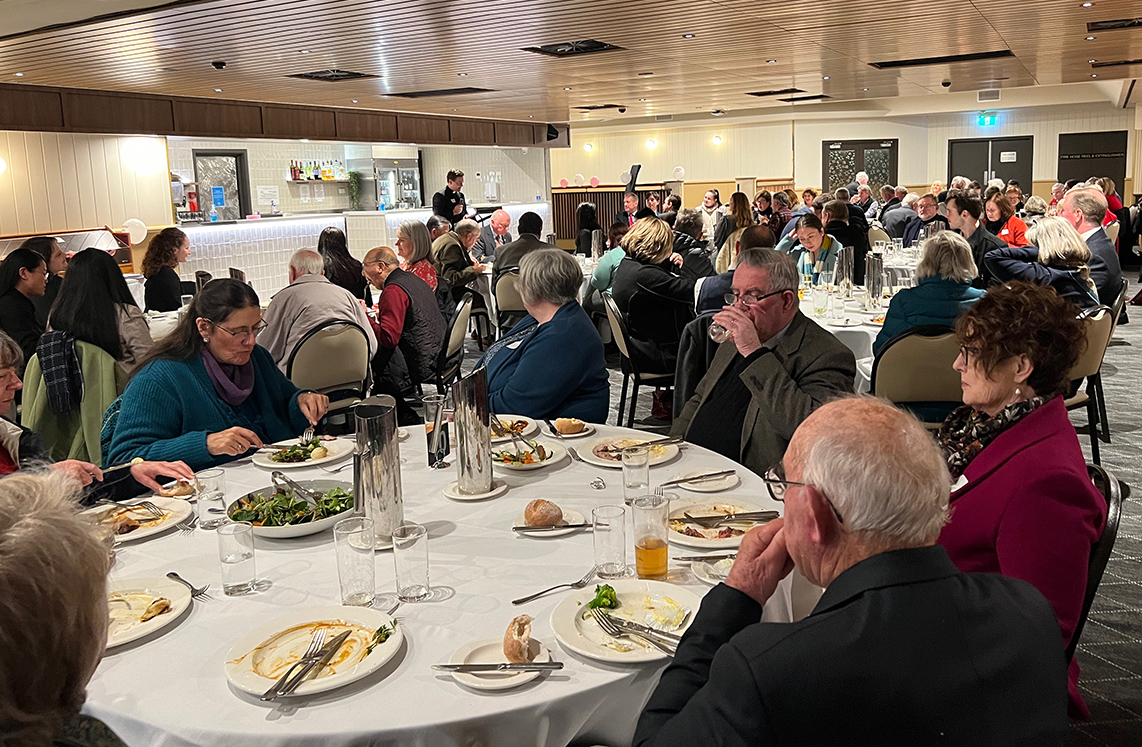 "We calculated that 1200 babies were not aborted in the ACT in the three years of the operation of the Osborne Bill."
Due to contracting COVID-19, Archbishop Prowse could not attend, and Cathedral Administrator Fr Van Reesch delivered his speech.
"The Right to Life Association in the ACT, I am sure, started with a moral outrage regarding the dehumanising practice of abortion that was occurring in our city," Archbishop Prowse said in the speech.
"This has led to extraordinary heroic responses in attempting to turn around what seems to have been an unstoppable movement toward pro-abortion laws.
"Our responses have been a humble way of expressing "tough love" in a hostile environment for the unborn child in Australia today. Our attention is also focused on the pending ACT legislation on euthanasia in the months ahead."