At the mercy of COVID-19
Sweeping canola fields, community spirit and morning tea are just a few things that draw people in from across the region for the annual Karinya House Mercy Walk for Women.
The September walk covers 23km from Boorowa to Galong and raises funds for Karinya to support women and babies.
This year COVID-19 restrictions meant they could not gather as a big group.
Teena McGrath, who coordinates the walk with the help of family and friends, and support from the Boorowa community, said the decision to go virtual seemed logical.
"It was really important for us to continue with the Mercy Walk in some capacity because of the amazing work Karinya House does for our vulnerable members of society," she said.
"The day is special as we acknowledge the wonderful work of Marie-Louise Corkhill and her amazing team at Karinya. It is also an opportunity to promote the importance of women and their role in society."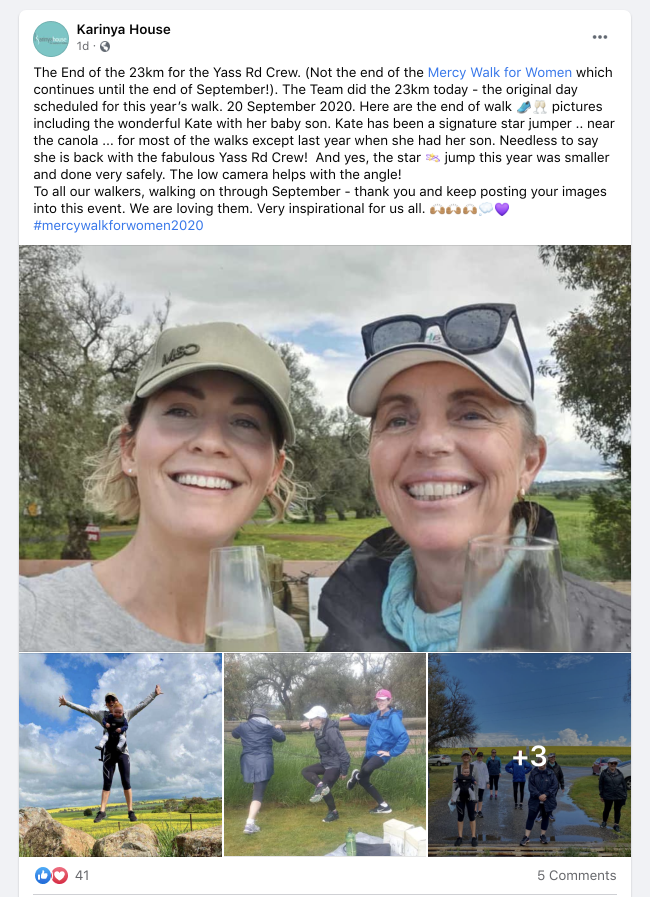 This year, participants could register as a solo member or as part of a team, to walk the 23km in one day or over the month.
Teena and her team, 'The Yass Road Crew', took on rain in a socially distanced walk from Boorowa to Galong last Sunday, the original date of the Mercy Walk.
"The Mercy Walk brings together women from all over the district to enjoy the beautiful journey of friendship and light-hearted banter, as well as promoting solidarity among wonderful women reaching out to support others," Teena said.
Other teams and solo participants from across the region have been sharing their walking tracks on social media using the hashtag #mercywalkforwomen2020.
Other ways to be involved in the event include donating to Karinya House directly or donating to support a walker.
Teena said she looked forward to the Mercy Walk being back in its traditional format next year.