Book Review: Observations on the Pell Proceedings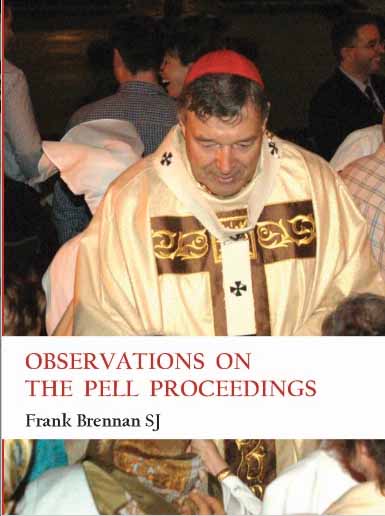 Observations on the Pell Proceedings
By Frank Brennan SJ
Robert Harris published Munich in 2017. I couldn't put it down.
Frank Brennan SJ published Observations on the Pell Proceedings in 2021. I couldn't put it down.
I worked with Pell as the rector of his seminary in Sydney. We hardly knew each other when I was appointed.
After six years in the job, two things stood out about the Cardinal.
He was deeply desirous of reforms to priestly formation.
Second, he had a terrific sense of humour.
He loved banter. Our first meeting was memorable.
I cheekily asked George – his preferred name in private – whether I was the second or third pick. He quipped, 'about the ninth.'
With a fine seminary faculty staff, we set about providing the best possible human, spiritual, pastoral and academic formation we could muster, given our limitations. The Cardinal backed our every move.
When he was charged with child abuse, I was gutted.
The criminal proceedings against Cardinal Pell began in July 2017.
The shining light amidst the darkness was Father Frank Brennan SJ. Again, a man I hardly knew.
He and George never seemed to agree on anything, but here he was defending Pell's right to justice.
In 2019 the suppression order in relation to the trial of Pell was lifted. Brennan began to piece together, and reveal to the public, what had taken place.
Brennan's book reads like an historical thriller. Chapter 10 is a stand out.
Bottom line?
Victorian Police do well in accompanying victims of child abuse – thank God – but they should never sacrifice the principles or practice of good police work
Brennan also shares thoughts on the Director of Public Prosecutions and the Judiciary.
Ordinary Australians are deeply indebted to Frank Brennan.
He most likely lost a few friends in defending Pell.
I doubt whether Brennan will lose much sleep, however, from the comments and views of journalists, who have failed to search for the truth, or from lawyers who have sacrificed the principles of law.
Brennan's magnificent achievement is that he has secured, for us ordinary folk, the principles of law and reason as they should apply in a free, democratic and just society.
Contact the Canberra Catholic Bookshop (02) 6239 9888 to place your order.