Caritas in Syria
With the recent invasion of Turkey into Northern Syria, Caritas Australia is reflecting on its work in the region after almost a decade of conflict. Since the escalation of violence in Syria in March 2011, 5 million Syrians have been displaced from the country and 6 million are internally displaced. With more than 13 million people in need of assistance, the conflict has caused untold suffering for Syrian men, women, and children (UN). In Jordan and Lebanon, here is how Caritas is making a difference with Syrian refugees.
Since the start of the Turkish military operation in the afternoon of 9 October, there have been continuing reports of intense shelling and airstrikes along the north-east Syrian border.
Tens of thousands of civilians have fled from the fighting.
The full humanitarian impact of the current military operation remains difficult to ascertain given the volatile situation. 150,000-160,000 people are on the move, and additional reports of mass migration keep coming in.
The Caritas network is assessing needs on the ground and preparing a response: 33 Caritas offices, in cities like Ar-Raqqa, Al-Hasakeh and AlTamr, will receive essential emergency supplies.
Caritas Syria's Al Hasakeh Office has already received 500 displaced families from the affected areas and provided them with drinking water bottles.
The needs are high: and through the support of generous donors, the wider Caritas network is able to provide: drinking water, emergency food baskets, blankets and mattresses, medical aid, cooking tools and clothes.
---
Caritas work in Lebanon
One of Caritas' main achievements has been to develop protection services for unaccompanied adolescents that are often survivors of sexual and gender-based violence. Despite best efforts, this has been a critical gap in protection services within Lebanon. As such, the program has sought to provide specialist services and care including to create a separate space in the shelter for the girls, hiring dedicated caregivers and developing activities tailored towards adolescents that, along with a mentorship program, strengthen the care provided to young people. Over the next year, with the support of DFAT, the program will continue to seek to strengthen the quality of care for these unaccompanied adolescent girls and to prioritse their resettlement.
Above Photo: The winter is particularly challenging for Syrian refugees in Lebanon. Photo: Jean Khoury, Caritas Lebanon
---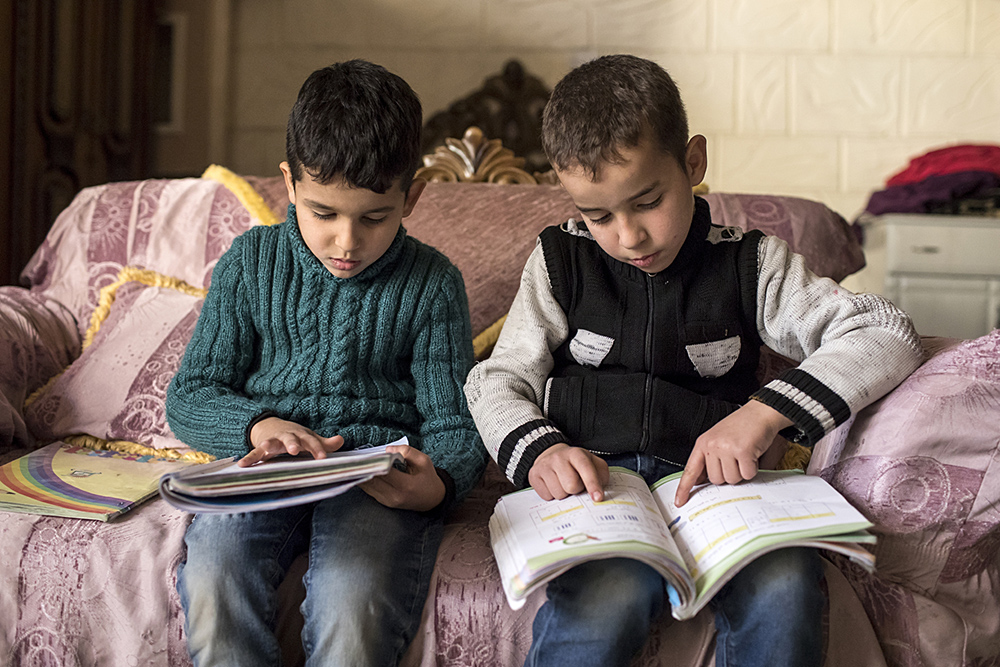 A timeline of the Syrian civil war and the work of Caritas Australia
• March 2011, the Syrian conflict escalates.
• August 2012, Caritas Australia supports the Emergency Appeal in Lebanon, providing immediate humanitarian assistance like food, medical supplies, and shelter.
• May 2013, the Department of Foreign Affairs and Trade program support for humanitarian assistance.
• May 2015, Department of Foreign Affairs and Trade program for Protection Activities in Lebanon: helping to train security forces, offer legal assistance and provide ongoing humanitarian assistance and awareness-raising.
• June 2015 -present: Caritas commences work with the Oak and Cedar shelters in Lebanon, supporting mothers and children displaced by the Syrian conflict. Support offered includes Residential needs, psychosocial support, education for children, medical assistance and post shelter support.
• April 2016- present: Caritas continues to work at the Caritas Education Program in Jordan, offering free school and counselling programs to thousands of young Syrian refugees.
---
Support Caritas' work with displaced Syrian refugees today by donating to our Middle East Emergency Appeal
https://www.caritas.org.au/learn/emergency-response/middle-east-emergency-appeal