Catholic students to benefit from UC's Occupational Therapy pilot program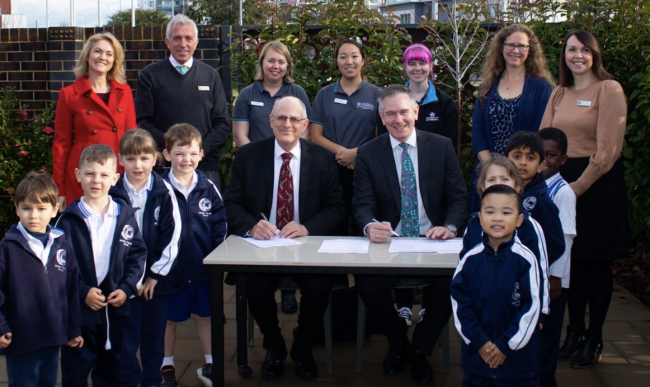 The University of Canberra has partnered with Mother Teresa School in a program that will see Occupational Therapy students from the Faculty of Health supporting primary school children on a weekly basis.
Endorsed by the Catholic Education Office, the Occupational Therapy students will assess and support children in building day-to-day skills – with hopes of extending the program to additional schools across the Canberra region.
Deputy Vice-Chancellor and Vice-President Academic Professor Geoff Crisp, who attended the signing at Mother Teresa School in Harrison on Friday, said the partnership was an excellent initiative for the Canberra community.
"I want to thank the community here at Mother Teresa School for their innovation and willingness to partner with the University of Canberra in this initiative," he said.
"Not only will we see a benefit to the students and their learning outcomes, but it sees our Occupational Therapy students getting hands-on experience within our community."
The idea was first put forward by Mother Teresa School kindergarten teacher Karen Garrity, who worked with the Faculty of Health's Clinical Educator of Occupational Therapy Jacqui Etherington to implement it.
"We are always supporting additional needs in our diverse learning team, and my son also has additional needs, so I value early intervention really highly," Ms Garrity said.
"With long waitlists for occupational therapists, the idea came about from thinking that if we can give children access to short, focused interventions with specialists in the classroom, it could be really successful."
The Occupational Therapy students started working in the classroom from March this year, assessing around 100 kindergarten children and their needs. They have also been working with some Year 1 students who require extra support.
The practical component then commenced in Term 2. This sees the children divided into working groups and practising their fine motor, play and emotional regulation skills.
"We want these children to have a sense of accomplishment and to feel proud of what they are doing," Ms Garrity said.
"If they can't form letters and use their hands smoothly across the page or don't have the core strength to sit up and write, they can fatigue easily and lose interest, and the gap in their learning can widen."
Catholic Education, Archdiocese of Canberra and Goulburn, Director Ross Fox attended the signing on Friday, and said that Catholic Education is keeping a keen eye on the pilot program.
"Mother Teresa School is known for a lot of things, but particularly, its great staff and enthusiastic students. It's wonderful to again see its innovative and student-first approach to learning," he said.
"We can't stand still when it comes to meeting the needs of our students and the occupational therapy initiative is one we would like to see expand and grow to service other students in the future."
This placement is just one example of the hands-on experience the University's health students gain during their study.