Cobargo's 125 years of faith and survival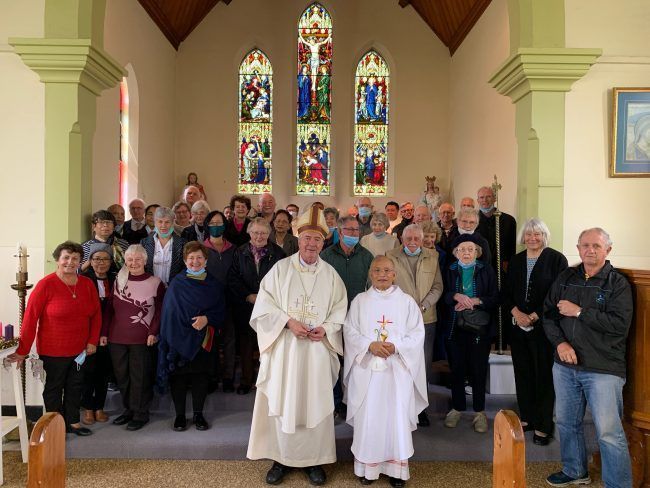 They came from far and wide to Cobargo last Saturday to honour the church of Our Lady of Good Counsel.
It's 125 years since the founding of the historic 19th century church at the town's outskirts on the NSW south coast.
St Mary's, as parishioners more commonly called it, almost didn't make it to its birthday party. The Black Summer bushfires two years ago ravaged the town and came lapping at the church's rear with its English-made stained-glass windows. They also took hold of the much treasured wooden bell tower. Heroically, locals came to the rescue with hoses and buckets, and church and tower were saved.
It's all too recent memory for parishioners and visitors who gathered for a special celebration of the Mass.
Archbishop Christopher Prowse was chief celebrant, with concelebrants parish priest Fr Joe Tran (resident in Narooma) and now retired, former parish priest, Fr Michael Mullen.
They were joined by other clergy from the Archdiocese's Eastern (coastal) Deanery, Frs Martins Aloga (Dean), George Azhakath, Luke Verrell and Pale Leota as well as seminarian Mark Ha.
The Archbishop told Catholic Voice it was clear St Mary's Cobargo was a very much loved parish community over its 125 years.
"The celebrations were heartfelt and every person there had a great sense of pride that their parents, their great-grandparents and great-great-grandparents had put into the fabric of the place to make sure it was a community of Catholic believers," he said.
"Even though Cobargo has had some terrible hardships, particularly the bushfires of recent years, they [the parishioners] are resilient and ever trustful in God's Providence."
Parishioners produced a book to mark the occasion with a record of many clergy and religious who ministered and educated the faithful, of horses and buggies, bullock trains, pandemics past and present, wars and depressions, ghost stories, annual Marian processions, and droughts and fires.
As Fr Joe Tran said to his parishioners, "…the church still remains and its bell still rings. These are the signs for the community that…there is hope and strength."