Coronation ceremony marks turning point in Catholic-Anglican relations
The coronation of King Charles III and his wife, Queen Consort Camila, marked a historic juncture in Catholic-Anglican relations, as it was the first time a Catholic bishop participated in the ceremony in four centuries.
In a May 5 statement, the Archdiocese of Westminster in the UK, overseen by Cardinal Vincent Nichols, called Saturday's coronation "a historic occasion for the nation, and also for the Catholic community."
"For the first time in over 400 years, a Catholic Archbishop will take part in a Coronation in this country," the statement said, referring to the fact that Nichols has not only been invited to attend the ceremony but will also give a blessing.
Other Catholic representatives at the coronation were Vatican Secretary of State Italian Cardinal Pietro Parolin and the newly-appointed apostolic nuncio to Great Britain, Spanish Archbishop Miguel Maury Buendía, as well as Archbishop Mark O'Toole of Cardiff, Bishop Hugh Gilbert of Aberdeen, Scotland, and the Archbishop of Armagh and Primate of All Ireland, Eamon Martin.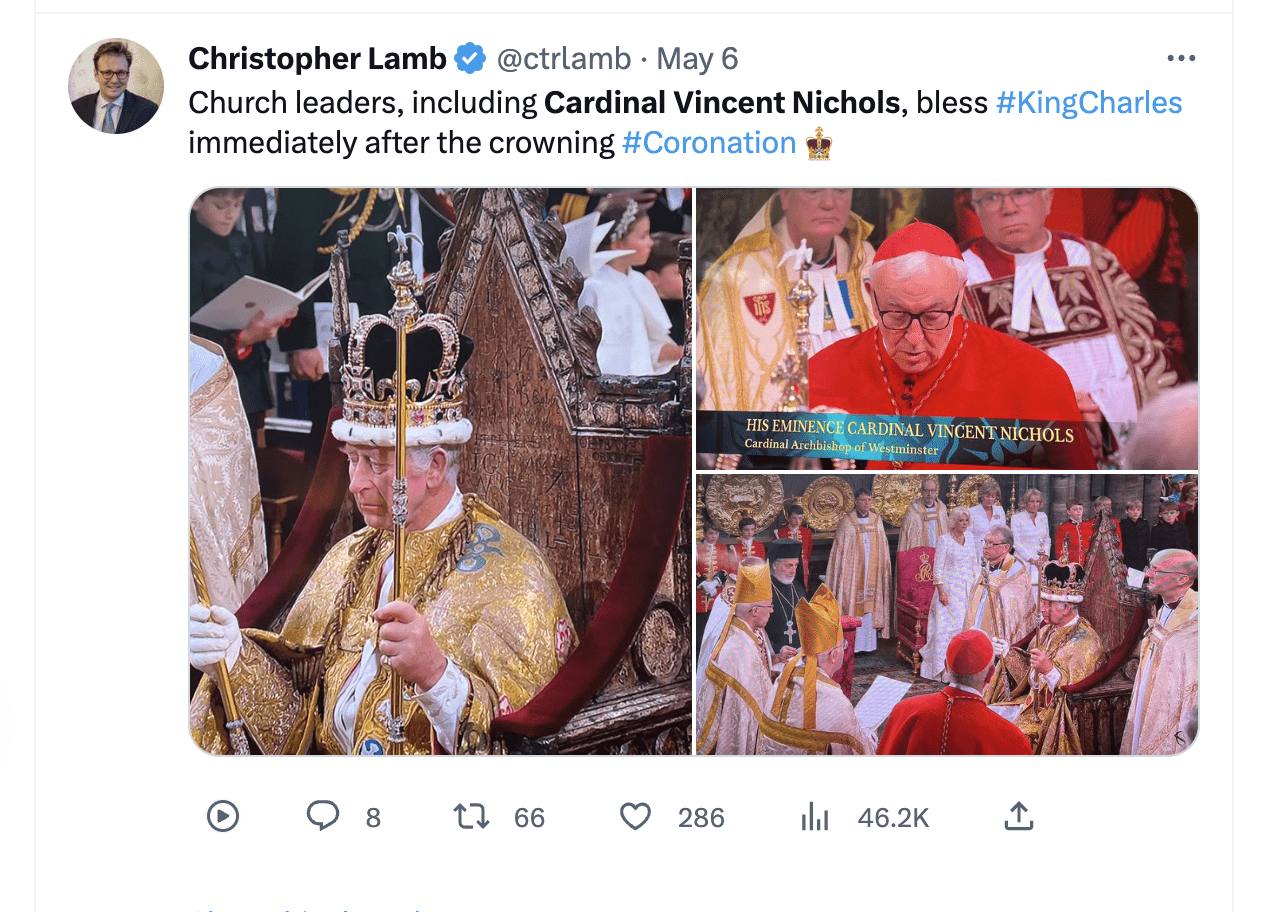 In a May 5 tweet, Cardinal Nichols said he was "privileged" to participate in the coronation ceremony, saying he'll be standing beside the Archbishop of Canterbury and other Christian leaders "to invoke God's blessing on His Majesty the King."
In a May 2 tweet, British Ambassador to the Holy See Chris Trott said, "We are thrilled that Cardinal Parolin will represent Pope Francis at the Coronation," noting that the last cardinal to do so "would probably have been Reginald Pole in 1553."
King Charles ascended to the throne last fall following the death of his mother, Queen Elizabeth II, who had reigned for 70 years, setting a historical record by becoming England's longest-reigning monarch. She had just celebrated her Platinum Jubilee when she passed away at the age of 94.
Historical tensions between Catholics and Anglicans date back to 1534 when Henry VIII broke away from the Catholic Church and declared himself head of the Church of England. However, Cardinal Nichols and many other observers have said that rift and the ensuing tensions finally faded during Queen Elizabeth II's time on the throne.
Her 70-year reign spanned seven different pontificates, beginning with Pope Pius XII. She met with Pope Francis in 2014. The last pope to meet her in the United Kingdom was Benedict XVI during his visit in 2010.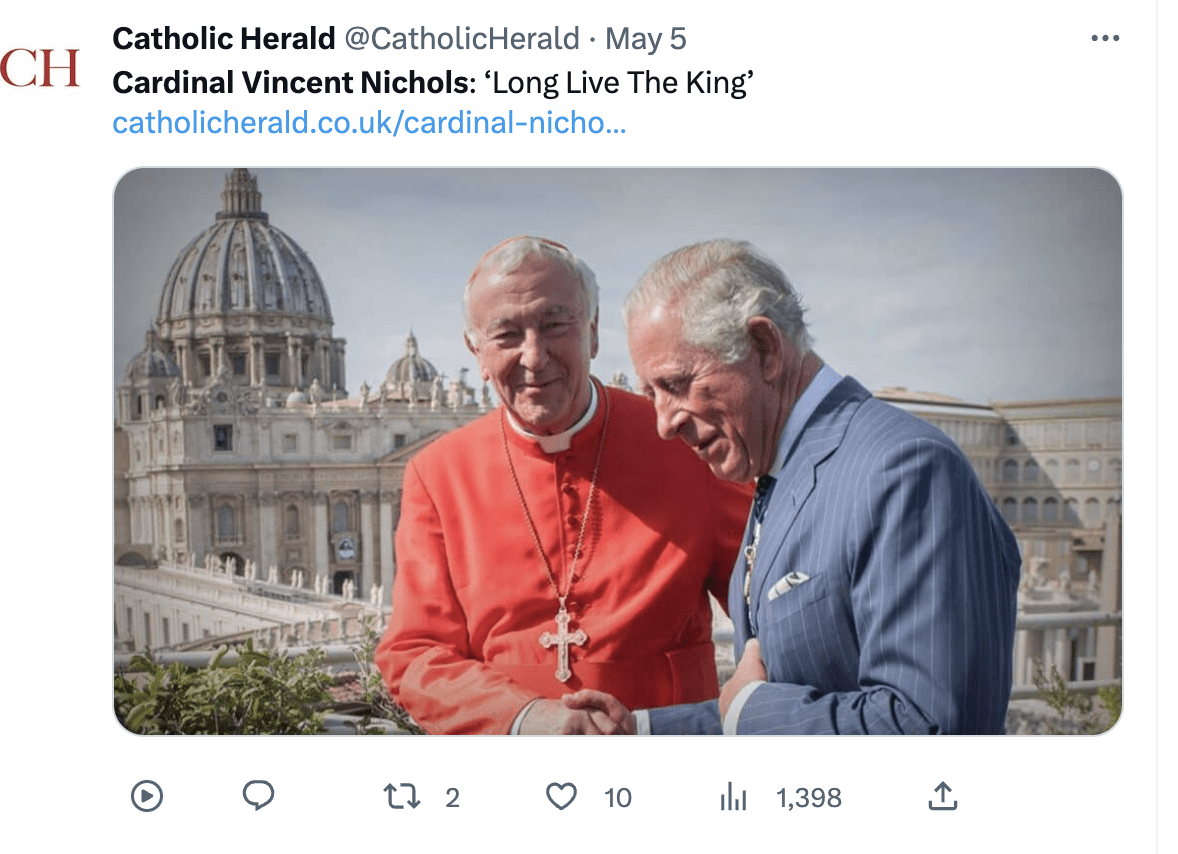 When Queen Elizabeth II was crowned in 1953, the religious landscape of the country was drastically different, and tensions between Catholics and Anglicans were more acute.
According to the Archdiocese of Westminster's statement in 1953, "it would not have been permitted for any Catholic to enter a Protestant church, let alone to take part in a Coronation service. This significant step is the fruit of decades of ecumenical relations."
In the lead-up to Saturday's coronation, churches throughout the United Kingdom were invited to hold a triduum of prayer, of sorts, for King Charles from May 3-5. Cardinal Nichols invited Catholics to participate by offering up their daily tasks and through formal prayers such as the rosary and the Mass.
The three-day prayer initiative closed Friday evening when, per the request of the bishops of England and Wales, each Catholic community was asked to offer a special Mass in the King's honour prior to Saturday's coronation ceremony.
Seventy years ago, more than 80 percent of England was Christian, yet secularism and mass migration over the elapsing decades have changed that. According to Fortune Magazine, the number of Christians in England is now less than half, with the latest census figures saying 37 percent state they have no religion, while 6.5 percent declare themselves Muslim, and 1.7 percent Hindu.
This change is felt most acutely in London, where more than a quarter of citizens adhere to a non-Christian faith.
In addition to sending Cardinal Parolin as his representative from Rome, Pope Francis has also gifted King Charles relics of what is believed to be the True Cross on which Christ was crucified, which will be included in a new processional Cross of Wales used at Charles's coronation.