Deep connections after years of faithful service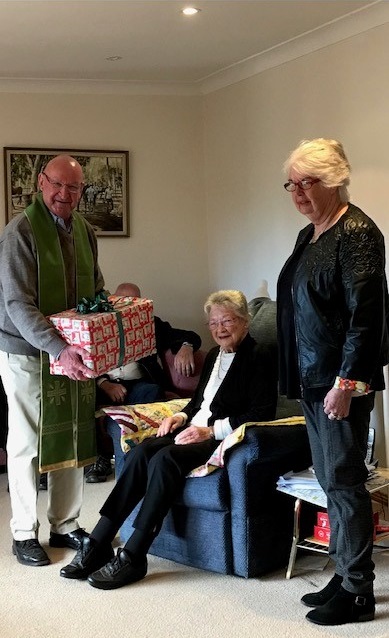 The small parish of St Columbkille's in Jindabyne has had two stalwarts retire in close succession. Fr Peter Miller, after twenty-two years as a parish priest and local parishioner, Mrs Rita Rowson at eighty-five after many years of dedicated service to the parish. With her late husband, Les, Rita spent many hours assisting with the maintenance of the churches at both Moonbah and Jindabyne.
The presence of Rita within the parish office was often described as invaluable. For thirty-four years, she produced the parish bulletin on her trusty typewriter. However, it was not only her dedication to the bulletin that made her a valued parishioner.
"Rita was a member of several parish committees during those years and also provided invaluable assistance when I was out of the parish," explained Fr Peter.
Rita's family history has deep connections to the area with a direct descendent having been transported to Australia for his involvement in the Irish rebellion. In 1851, Thomas Pendergast, the son of the rebellious Irish patriarch, donated twelve acres of land at Moonbah as a site for the church and general burial ground. And as it transpired, Thomas is the first recorded burial in the Moonbah cemetery.
Therese Thomas, friend and fellow St Columbkille's parishioner, provided further insight into Rita's family history.
"Both Rita's grandfather and her parents were married in the Moonbah church. Another important historical fact is that Rita is also a descendent of John S McEvoy, who was the inspiration for Fr Hartigan's poem, 'McEvoy The Altar Boy".
The Altar Boy

Now McEvoy was altar-boy
As long as I remember;
He was, bedad, a crabbéd lad,
And sixty come December.
Faith, no one dared to "interfere"
In things the which concernin'
'Twas right and just to him to trust
Who had the bit o' learnin'
To serve the priest; and here at least
He never proved defaulter;
So, wet or dry, you could rely
To find him on the Altar.
After many years of dedicated service, Rita is now housebound and no longer able to serve in the way she once did. To acknowledge Rita's work in the parish, Fr Peter celebrated a home Mass, which was attended by several parishioners.
"Following the Mass Fr Peter made a presentation to Rita in recognition of Rita's contribution to St Columbkille's. The gift of garden ornaments was a reflection of Rita's love of gardening," said Therese.
Thank you, Rita.