Christmas Events
19 November 2019 @ 8:00 AM

-

5:00 PM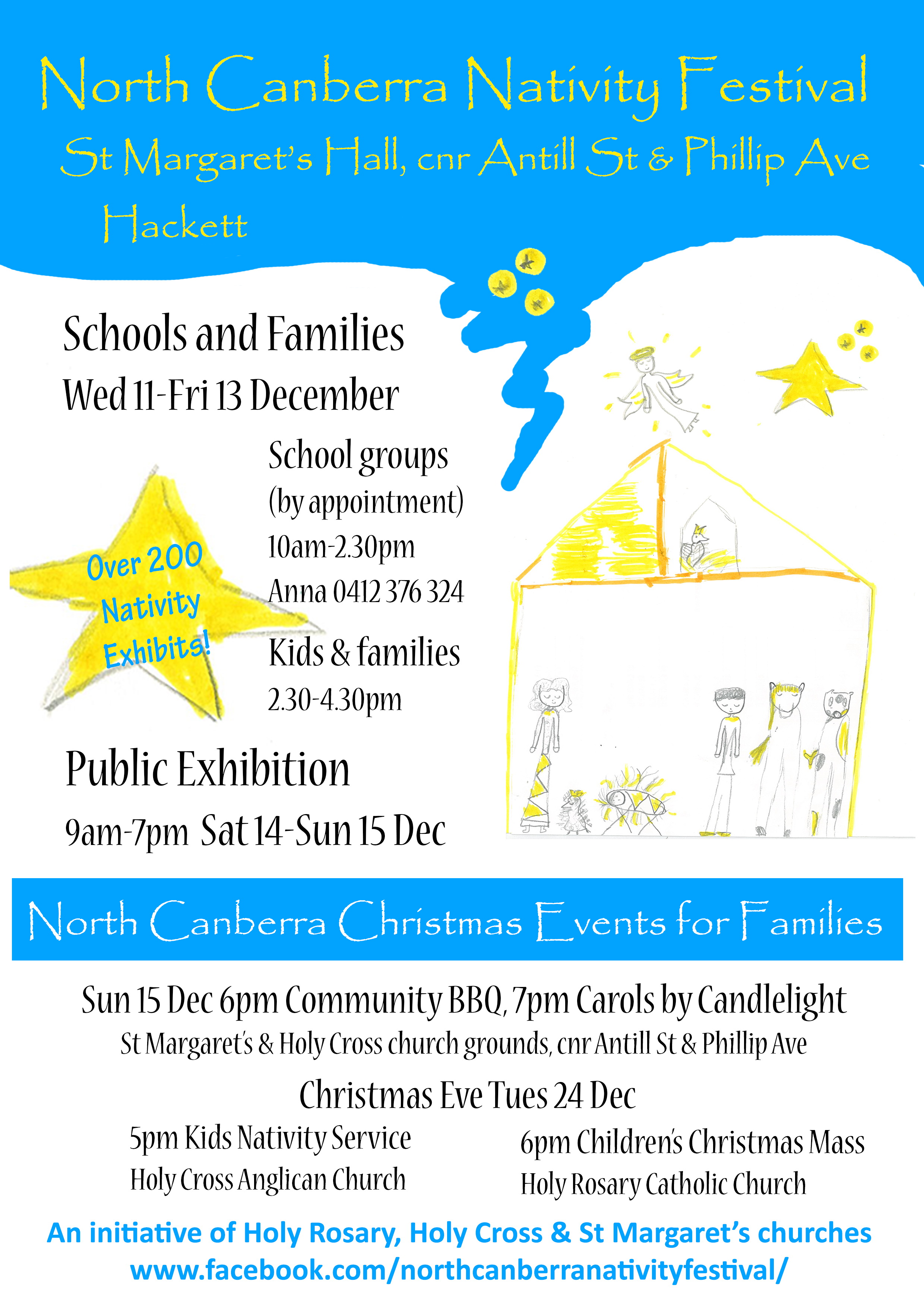 11th to 15th Dec: North Canberra Ecumenical Nativity Festival
Exhibition of 200 Nativity scenes – an entrée to family discussion on the true meaning of Christmas. From 40 countries, they show diverse cultures that embrace the Christian story: from the Palestinian Territories to Vietnam, from India to the Inuits of the Canadian Arctic.
Wed 11th-Fri 13th: 10:00am-2:30pm – School groups by appointment (Ph: 0412-376-324)
Wed 11th-Fri 13th: 2:30pm–4:00pm – Kids & Families
Sat 14th–Sun 15th: 9:00am–7:00pm – PUBLIC EXHBITION
St Margaret's Hall, Cnr. Antill St. & Phillip Ave, Hackett. Contact: Keith at linard.keith@gmail.com.
14th DECEMBER – CHRISTMAS CONCERT
Looking Glass Percussion: Join members of the Canberra Symphony Orchestra for a free Christmas Concert. Saturday, 7pm Holy Cross Anglican Church, Antill St. HACKETT. Contact: Anna at linard.anna@gmail.com.
15th DECEMBER – COMMUNITY SAUSAGE SIZZLE & COMMUNITY CAROLS BY CANDLELIGHT
Sunday, 6pm – Free Community BBQ / Sausage Sizzle (& Nativities Viewing) followed by
Carols by Candlelight at 7pm. St Margaret's & Holy Cross Church Grounds, Hackett.
Initiative of Holy Rosary Catholic, Holy Cross Anglican & St Margaret's Uniting Churches
Contact: Anna at linard.anna@gmail.com