TAIZÉ Lenten Retreat Weekend
11 March 2022 @ 6:00 PM

-

13 March 2022 @ 1:00 PM

$55 – $300.00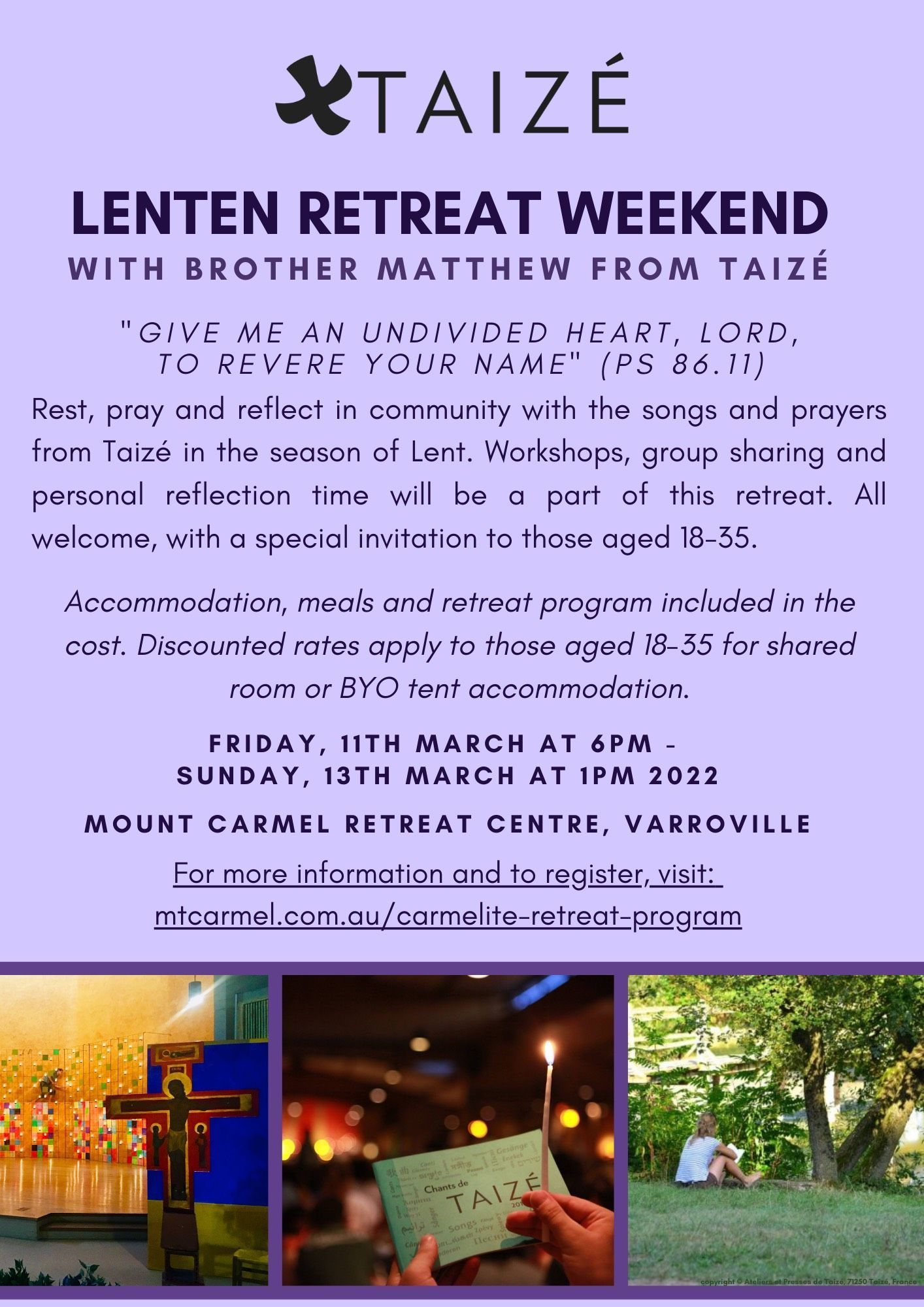 TAIZÉ Lenten Retreat Weekend with Brother Matthew from Taizé, 11-13 March 2022 at Mt Carmel Retreat Centre, Varroville, Sydney
"Give me an undivided heart, Lord, to revere Your name" Ps 86:11
Rest, pray and reflect in community with the songs and prayers from Taizé in the season of Lent. Workshops, group sharing and personal reflection time will be a part of this retreat. All welcome, with a special invitation to those aged 18-35.
Accommodation, meals and retreat program included in the cost. Discounted rates apply to those aged 18-35 for shared room or BYO tent accommodation.
Friday 11th March 6pm to Sunday 13th March 1pm 2022.
Cost for the weekend (accommodation, meals and program included):
Retreat Centre accommodation
Triple plus (3 or more guests) and bathroom: $200.00
Shared room (2 guests) and bathroom: $270.00
Own room with ensuite: $300.00
Camping
Day rates
$55 (lunch or dinner)
$70 (lunch and dinner)
Address: Mt Carmel Retreat Centre 247 St Andrews Road, Varroville NSW 2566
Bookings: mtcarmel.com.au/carmelite-retreat-program
More information: John Ransom Manager Mt Carmel Retreat Centre 02 8795 3400