Final report marks 'line in the sand'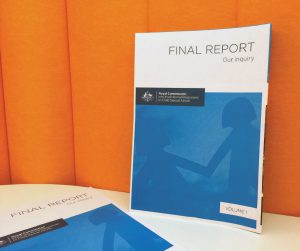 "This report marks the line in the sand," Archbishop Christopher Prowse declared following the release of the final report of the Royal Commission into Institutional Responses to Child Sexual Abuse.
"As a Catholic leader, I accept this responsibility, and with the support of our faith-filled communities, I am determined to forge a more accountable and transparent future direction."
Joining with other key Church figures in welcoming the final report of the five years long Royal Commission into Institutional Child Sex Abuse, he reiterated the Church's remorse for victims, their families and friends.
"The journey of the Commission has been a period of utter shame for the Catholic Church," he said.
"I congratulate the Commission on its rigor during this long investigative process, and honour the victims for their courage in exposing the unspeakable horrors they have endured," he said.
"We are truly sorry for all that has taken place."
Archbishop Prowse described the revelations in the report as "shocking and diabolical" and likened the Commission to an extended 'examination of conscience' for institutions, especially the Catholic Church.
He said the events of the past have engendered immense humiliation in our communities, and that the only forward is with a conversion of heart and by righting the wrongs through actions.
"This conversion of the heart is the beginning of a hope-filled path into the future," he said.
"Conversion of cultural patterns and structures must follow."
He said the Archdiocese will now commit itself to carefully examining the recommendations of the Commission, and building on what has already begun in the long future road to collective responsibility.
The Archbishop says he supports the introduction of a national redress scheme for the survivors of child sexual abuse in which the Church will participate along with the State governments.
"I have strongly advocated the ACT Government to strengthen and expand the reportable conduct scheme to include religious organisations," he said.
"May the Lord deliver us from evil as we follow more closely His ways of mercy and justice."
To read the Archbishop's statement in full visit https://www.catholicvoice.org.au/wp-content/uploads/2018/02/171215-STATEMENT-Archdiocese-of-Canberra-Goulburn-RC-final-report-response.pdf
Recommendations set to have significant impact on the Church
A NUMBER of recommendations by the Royal Commission may have a significant impact on the way the Catholic Church in Australia operates into the future.
Various amendments to the 1983 Code of Canon Law are proposed in the report as is greater transparency and stricter reporting and governance by the Australian Catholic Bishops Conference. >> Read more
One of the key recommendations of Dr Lucy's review was for the establishment of an advisory panel to provide advice to the Archbishop and Institute of Professional Standards and Safeguarding.
>> Read more
The Final Report of the Royal Commission into Institutional Responses to Child Sexual Abuse, was published. It has showcased moments of great darkness and despair not simply in courageous victims but also their family and friends and all of us. This tragedy of sexual abuse ought become a particular prayer focus of our Lenten discipline this year.
>> Read more