Finding peace in the front row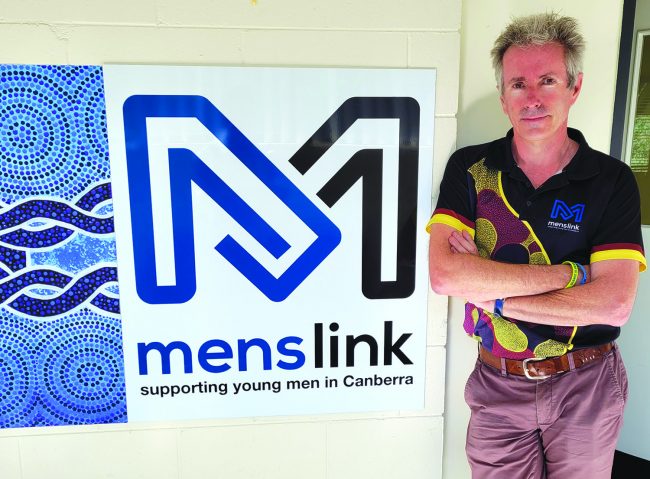 "Gidday, I'm Mark, how yer goin'?"
Those completely unexpected few words over a few seconds from a stranger turned Martin Fisk's life on a hinge.
Martin is the CEO of Menslink, the organisation in the national capital that offers support and mentoring services to young men and boys going through tough times.
He's approaching his 10th anniversary in the job.
From Sydney, Martin was raised a Catholic but at age 18 turned his back on the church.
Like many, he set out in pursuit of wealth and success.
"But I found it caused me a whole lot of grief," Martin says.
He endured his own tough times.
Years later he was a single dad in his 40s living in Canberra and decided on a whim to take his kids and himself to Mass in Kippax.
They arrived late and took the only seats available, in the front row.
Big doors might swing on small hinges, as the saying goes.
In Martin's case they swing on front row seats…and the Sign of the Peace.
Because at the Sign of the Peace, Fr Mark Hanns walked up to Martin and his girls in the front pew and thrust out his hand.
"I'm Mark, how yer goin'?" he said. "Welcome to the parish" and "What's your name?"
The humanity in Fr Mark's welcome was the tonic Martin never knew he needed and its effect was immediate and lasting.
"And I just went, you know what? I'm coming back."
And he did.
He reread the Bible.
He reengaged with the church and its teachings.
He remarried; he and his wife attend Corpus Christi parish at Gowrie in Canberra's south.
Martin has never looked back in his Catholic journey and he says his faith has played an important role in his Menslink job.
But for this "1000 per cent" secular organisation, it's a faith that works away silently, privately, by example.
He says he tells young fellas all the time that while what they've done can't be changed, it's what they do next in life that's more important.
He implores them to think about their role models.
And in this, he practises what he preaches.
"My role model is Jesus," he says.
"In those dark times when you've got suicides and murders and all the bad things that can come across our desks, I find myself often asking what Jesus would do. It helps guide me in my next response."
He says he draws inspiration from the words of Saint Teresa of Calcutta for that guidance.
"'We don't preach about Jesus. We don't even talk about Jesus. We act like Jesus'."