"I AM"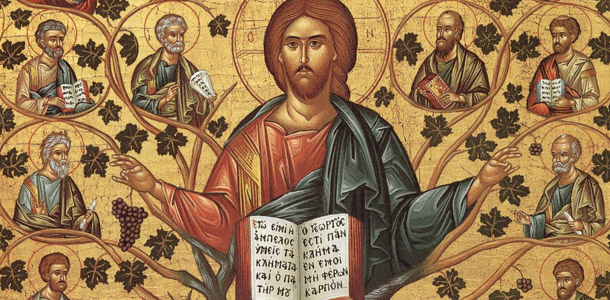 God appears to Moses and reveals his name as 'I AM' (Exodus 3).
Jesus walks on water and to the frightened disciples, huddled together in a boat, he says, "Be not afraid, 'I AM'" (John 6).
What follows in the Gospel of John is a series of 'I AM' statements, all with different predicates:
I AM the Bread of Life
I AM the Light of the World
I AM the Gate
I AM the Good Shepherd
I AM the Resurrection and the Life
I AM the Way, the Truth and the Life
I AM the True Vine.
The list is suggestive, not exhaustive.
Jesus is revealing himself to us. On our journey with, and towards God, we will assuredly experience that Jesus is our bread, our shepherd, our resurrection, our life, our light.
The most intimate of the revelations is the imagery of the Vine.
John 15 discloses that the Father is the Vinedresser, Jesus the Vine, we the branches. Jesus is the 'sap,' and if we are 'cut off' from him, then it all 'goes south.' Vigilance is required.
Notice the imagery of 'pruning.'
The meaning of suffering, trauma, discipline, is laid bare. It is all with the purpose of 'bearing much fruit.'
St. Irenaeus (130-202), one of the earliest theologians, liked to say 'that the glory of God is men and women fully alive.'
External constraints there will always be, but how good is it when men and women mature by 'clearing out the decks,' allowing the Vinedresser to 'prune' them from internal constraints, addictions, maladies, pathologies and spiritual inhibitors?
Amen.