Joy as sister takes vows for life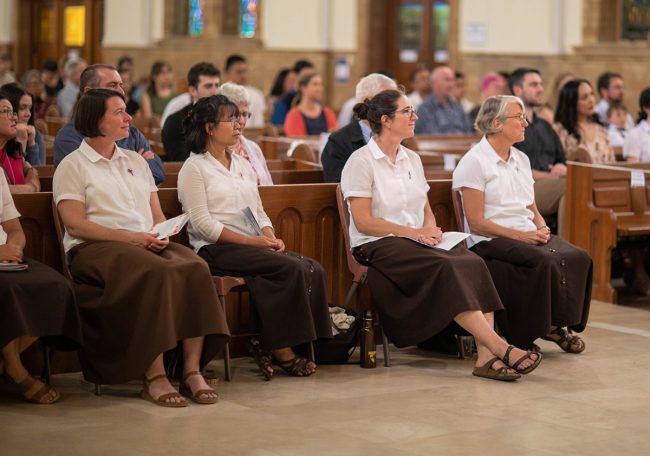 The celebration of perpetual vows for Bernadette Toohey was a cause for rejoicing for the Missionaries of God's Love Sisters last weekend.
About 220 family, friends, members of the Disciples of Jesus Covenant Community and Missionaries of God's Love gathered in Canberra for a Mass to mark the occasion, followed by a celebration.
Raised in Adelaide before joining the Missionaries of God's Love in 2012, Bernadette worked in marketing and youth ministry until discerning the call to religious life in her mid-20s.
Happily single for many years, she says it wasn't until she attended several weddings in a short space of time that she realised she needed to discern her vocation, which she did on retreat at Jamberoo Abbey in NSW.
When thinking about religious life, Bernadette says she felt "flooded with joy" at the prospect of living with other women and proclaiming the gospel as a missionary sister.
Reading the book, Radical Way of Love, by MGL founder Fr Ken Barker, excited her about the MGL charism and way of life: "As I read about the life of poverty, chastity, obedience and prayer, sisterhood and mission, my heart was on fire and I knew this was the life I wanted to live," she says.
Since joining the Sisters, Bernadette has lived in Sydney, Canberra and Melbourne, as well as being a part of a team led by the Sisters during the Year of Youth that travelled to Townsville, Darwin and Port Pirie dioceses.
Bernadette and the Sydney sisters have gone to live in the former monastery of the Carmelite Sisters in Varroville, where their work will focus on youth and the poor.
The Sisters were also delighted to celebrate the initial vows of Sarah-Jane Hollitt from Adelaide and Promises of Angela Uybarreta from Darwin.
The Sisters are now at their largest ever, with 17 living in their three houses.
For more information about the MGL Sisters, visit www.mglsisters.org