Kids' response to racial hatred after Euro 2020 Final fills us with hope
Before I begin, I must say that I was truly desperate for England to win the Euro 2020 Final on Sunday. With three football (soccer!) loving big brothers, I've grown up with no choice but to love the game. This football fever has been passed on to my youngest son with special needs, who has memorized every single goal, pass, team (and much more) of his beloved heroes. He had high hopes.
Sadly, the football game was tied 1 – 1 at the end of extra time. This meant that the dreaded penalty shoot out would have to take place. (For non-soccer fans, this involves players trying to score more penalties than the other team until one team is eliminated.) It's the worst thing ever! Why they can't decide the winner based on overall performance, or even which team had the best hair cuts, is an absolute mystery to me!) Our hearts were in our mouths as we watched from behind our sofa cushions.
In the end, all it took was five players from each team going up against the two goalkeepers. These men, some still teenagers, faced a championship defining shot in front of a huge crowd with millions of people watching worldwide. The pressure was ridiculous. Three of the English players missed, two Italian players missed. England had lost and the floods of tears began.
It was late in the evening when I finally managed to console my son. Football was not "coming home" — the familiar chant of the English footie fan — but our team had tried their best.
Come Monday morning the internet was crazy with news of racial abuse levied at the three young men from different racial backgrounds who'd played well for their country. The level of hatred was abhorrent.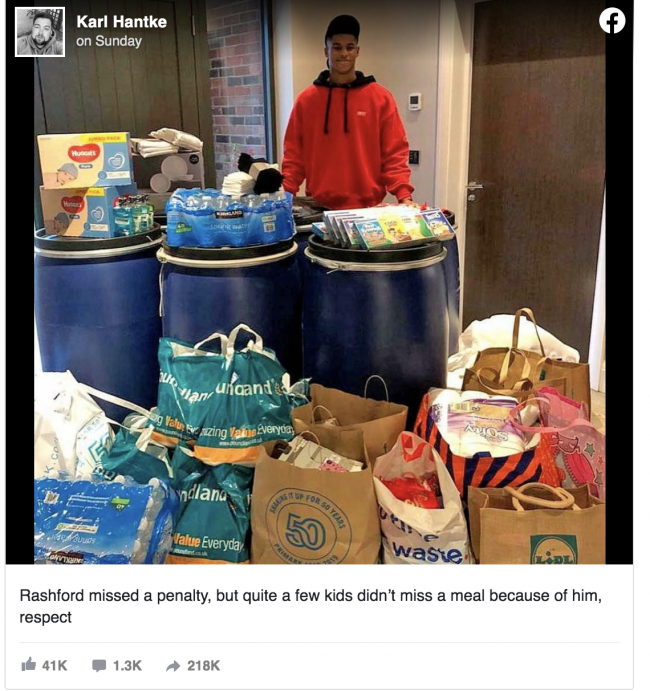 In Manchester, a mural of Marcus Rashford, 23, one of the three players who devoted much of the pandemic actively campaigning to gain free meals for children in need, was defaced with racial comments. (And that's nothing compared to the abuse he received online.)
Jadon Sancho, 21, and Bukayo Saka, 19, were also on the receiving end of vicious, vile attacks that shocked the entire nation and sporting world.
The England manager, Gareth Southgate, and the England captain, Harry Kane, along with various politicians and royalty all issued comments condemning the behavior. Football fans ran to the mural of Rashford to cover it with loving messages and symbols. And as is so often the case during these sorts of attacks, new laws were demanded, as well as better control of social media to stem the hatred.
Yet, among all these demands there were voices shouting even louder — those of the children.
Kids who've just learned to write have been penning letters to their sporting heroes to offer their support and love. As reported by the Daily Mail, one boy of seven, Dexter Rosier, wrote to Rashford with impeccable writing saying: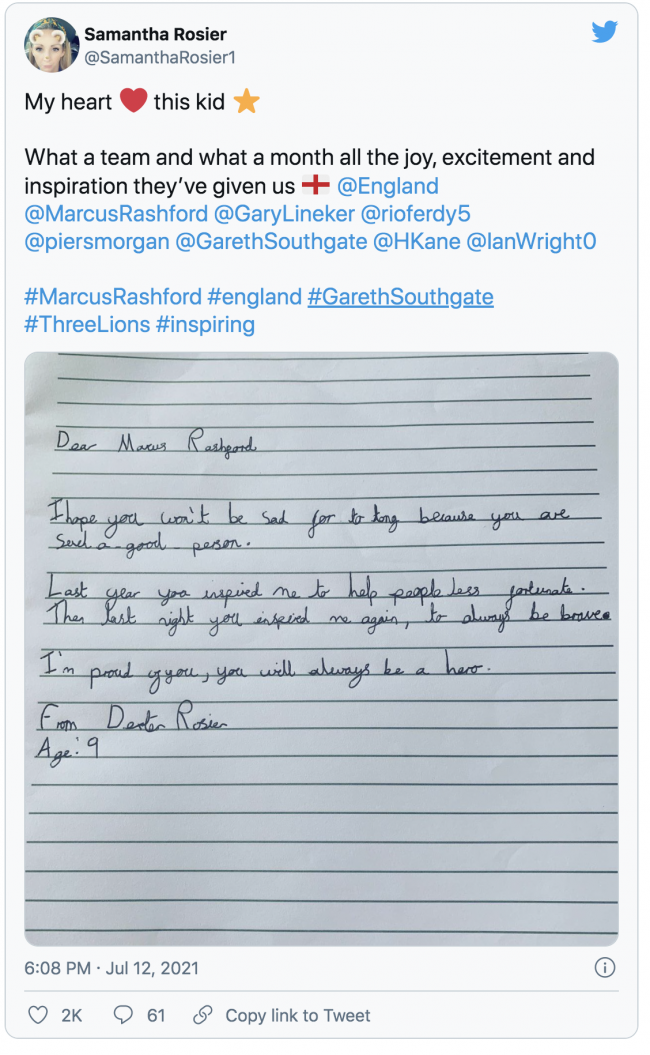 "I hope you won't be sad for too long because you are such a good person. Last year you inspired me to help people less fortunate. Then last night you inspired me again, to always be brave. I'm proud of you. You will always be a hero."
In fact, Dexter's mom Samantha explained that her son had been inspired by his hero to use his own pocket money to buy food to contribute to local food banks. He explained why he felt compelled to write to Rashford:
"I thought he was an inspirational person and I have always liked him and when he took that penalty and missed it he looked a bit sad and I wanted to cheer him up and all of the bad mean comments I just didn't like them so I wanted to send him something to make him happy. He's genuinely just a nice person."
Thankfully the players are now being flooded with more letters and messages from young and old, all with the same message of love and gratitude. Among all the weeds of hatred, blooms of love are now spreading.
Yes, England may have lost the championship, but they've united a nation in the fight against hatred and racism. The response of these youngsters is not just a lesson in love, but a lesson in how to accept defeat gracefully, how blaming others when things go wrong is futile and harmful. and how the future is in good hands with young men like Dexter.