Leading the charge for inclusion of Catholics with disabilities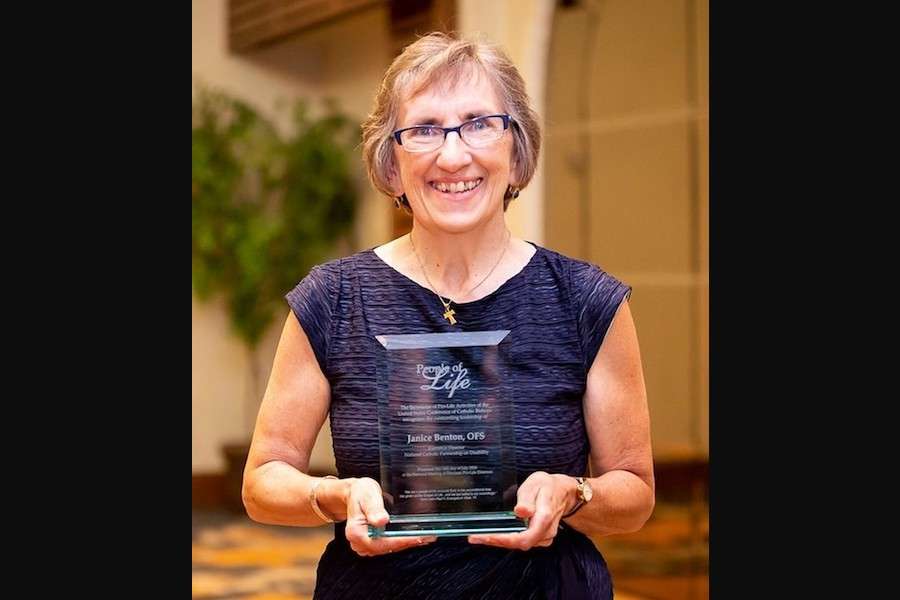 Washington D.C., Oct 30, 2019 / 01:44 pm (CNA) – When Janice Benton was attending college in Michigan, she answered an ad in her parish bulletin that was seeking someone willing to be a catechist for children with intellectual disabilities.
That response would begin a career spanning several decades, where she would work to improve inclusion for Catholics with disabilities–a career that would lead her to speaking at the Vatican and leading the National Catholic Partnership on Disability for 15 years.
Benton, a secular Franciscan, will be retiring from her position this year and will be honored for her work with Catholics with disabilities at a banquet on Nov. 8. She spoke recently with CNA to discuss how the landscape in the Church has changed for people with disabilities since she began working in the field, and how she hopes things will continue to improve in the future.
After volunteering with children at her parish, Benton started a catechesis program to serve young adults with disabilities, and was working at a nursing home. There, she befriended a young woman with cerebral palsy. She told CNA she had wondered why a young adult was living in a nursing home, and sought out the friendship. She also met another volunteer in a catechetical program who had cerebral palsy.
"So I ended up with friends and family members with disabilities,…and I was blessed to work with folks from the Archdiocese of Detroit to get a lot of their training from them," Benton said. "They had quite a good program there."
The National Catholic Partnership on Disability (NCPD) was founded in 1982, and Benton assisted with its creation, having previously worked with the U.S. Bishops' Advisory Committee on People with Disabilities. Benton took over the role of director of the NCPD in 2004.
Benton said she has seen many positive changes regarding the treatment of Catholics with disabilities during her more than 40 years working in that ministry.
"I think people are more engaged in parish life now, and their gifts are really being recognized," she said. "I think of it as just recognizing their giftedness and that everybody is called to, everyone belongs in the Church. And they're called as part of the body of Christ to contribute."
Specifically, Benton said she is happy to see more and more parishes and schools adopt inclusive models to serve Catholics with disabilities.
"There's more involvement in parish life itself and less just separate programs (that are) just kind of off to the side to serve people," she said. "There's just more appreciation of people for who they are, their giftedness and what they can bring to the faith community."
While Benton is heartened by these changes, she said there's still much more work to be done. For instance, the NCPD still receives calls from families with children who were told they would not be permitted to receive their First Communion or participate in faith formation classes due to their disabilities. The USCCB approved the Guidelines for the Celebration of the Sacraments with Persons with Disabilities in 1995, which Benton called a "beautiful resource that's easy to put into the hands of pastors and catechetical leaders."
And although there have been substantial improvements in the Church regarding persons with disabilities, especially with the ever-growing list of Catholic schools that are willing and able to accommodate students with special needs, Benton told CNA that Catholics with disabilities are still often overlooked by other members of their parishes.
"I have a friend who says one of the things that hurts her the most is not being seen as a person, (but) kind of being seen as a 'person with a disability' and not as somebody you'd want to go out to lunch with or just have fun with," said Benton.
"And my friend in my parish says what hurts often the most is that nobody wants to sit near her. They kind of keep a wide berth. And, so I think people still tend to exceptionalize disability, and want to make it special or different or kind of focus on what might be a difference, as opposed to the common humanity of everybody."
As she prepares to leave her role at the NCPD, Benton said she hopes the organization is able to expand its presence into parishes. She hopes that parishes will make the accommodations needed, and include persons with disabilities into their regular programs.
Doing this, she said, will ensure that "people can participate fully and meaningfully–and not just be taken care of, but really share their gifts with the Church community."
"I want people to know that the Church is here for them, that the NCPD exists," Benton said.
"I want people with disabilities to really experience the sense of belonging and really experience people treating them with dignity and respect, and that they really are just vital members of the body of Christ."