Marian@Manuka: lifestyle and financial peace of mind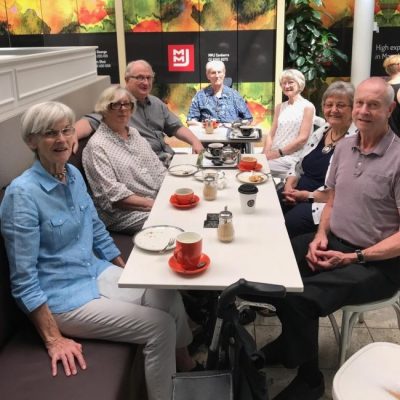 It's not a retirement home or an aged care home. That's a point residents want to make clear about Marian Place in Manuka, commonly known as Marian@Manuka.
It is a communal apartment complex for over 55s and a place that residents rave about.
"I've been in other apartment complexes and there was no opportunity – neither a venue nor the inclination – for people to get together and socialise," said Judy who lives at Marian@Manuka with her husband Russ.
"The layout helps a lot. The pavilion is positioned in the centre of the complex which creates a sense of community that has grown fairly rapidly, given that many people have only been here a short time.
"It's very inclusive and welcoming, and that was one of the things that actually sold me … the architecture and the design.
"At some apartments, there's a sense of separation and isolation from the rest of the residents but I don't feel that here. You can be as connected as you want to be."
The Happy Hours are casual get-togethers every second Thursday where residents bring a plate and a favourite bottle and relax in the pavilion, or outside depending on the weather. Residents have organised other activities such as trips to wineries.
Di, a more recent resident who lives at Marian@Manuka with husband Jim, agreed that the social aspect of the complex sets it apart from other options.
"That was one of the main attractions for us," Di said.
"We'd never lived in an apartment before. We've moved from an 80-acre farm in Yackandandah and downsized to a three-bedroom apartment.
"We were attracted to the idea that there would be people a similar age to us, with similar interests. When you move into an area where you don't have many friends, we thought this would be the ideal place to form friendships. And it has been."
Judy's husband Russ said he liked the fact he could 'opt in' to activities when he wanted to.
"I enjoy the social life but also knowing that there's no obligation," he said.
"Not everyone comes to the happy hour, or to the meals that get provided by Dennis (the property manager), but they know that they can join in if they want."
Marian@Manuka is located in Franklin Street, Manuka. Or is it Forrest? You can get into a lengthy debate about what suburb it is, but in any event, it is about half a block from the Manuka Village.
"The closeness to Manuka was a big influence for me," said Jim (other half of Di).
"We can get into town easily, and in Manuka there's restaurants, takeaways and coffee shops. Plus lots of other stores and services. I've never had it this good. It's like being in a wonderland.
"We bought a new car about four months ago and we hardly need to use it because we can walk everywhere."
Jim said the security of Marian@Manuka, where residents enjoy secure parking and safety from intruders, gave him great peace of mind.
Deciding on any type of accommodation is always a big decision and all the residents agree they thought long and hard about moving to Marian … but they also agree that having experienced it, it was the right choice for them.
For Jim, it came down to two key factors, both of which Marian passed with flying colours.
"There's two things to consider if you're looking at coming here," he said.
"You can look at it as an investment or as a lifestyle. As an investment, when you look at what's included in the costs, that covers some of the major things like insurance, stamp duty, rates… they go into the background and that also improves your lifestyle. Fewer worries.
"But you also know that it secures your finances for the future. In the long term, it's probably much of a muchness with other apartments. In the short term, it's much better. Either way, it's way out in front for lifestyle."