Legion of Mary members say "I am all yours" to Mother Mary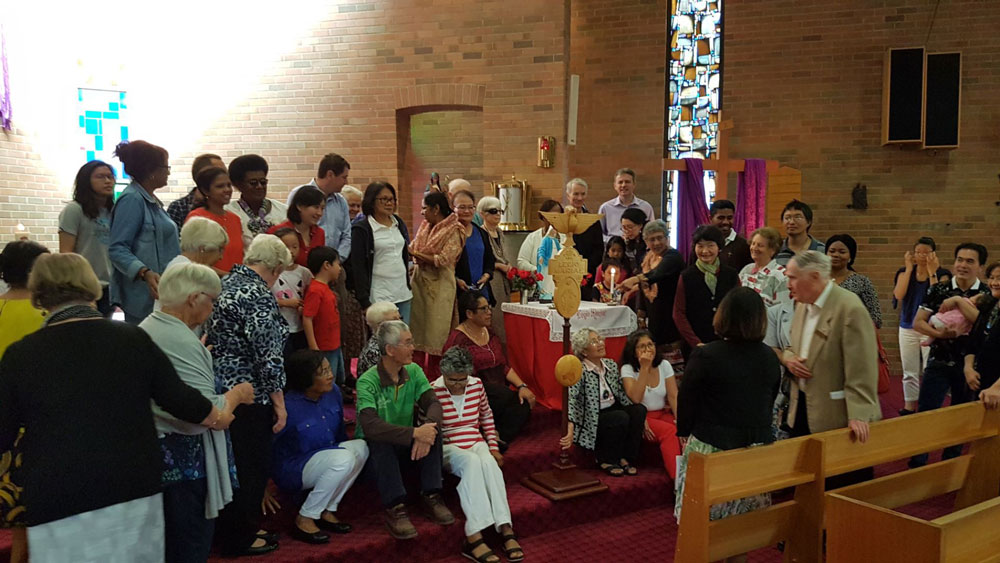 Members of the Legion of Mary in our archdiocese felt uplifted after gathering for their Annual Consecration to Our Lady ('Acies') and for Holy Mass on March 23 at St Brigid's Church, Dickson.
Led by Vicar-General Tony Percy, Legionaries and guests renewed their consecration to Our Lady with the beautiful promise 'I am all yours, my Queen and my Mother, and all that I have is yours'.
This consecration prayer from the great Marian saint, St Louis Marie de Montfort, was also adopted by St John Paul II, whose papal motto was 'Totus tuus', Latin for 'I am all yours…', the beginning of the same consecration prayer.
In his Acies address, Fr Tony Percy reminded Legionaries of the importance of always following the will of God, just as Our Blessed Mother Mary did throughout her life.
Under the guidance of their Archdiocesan spiritual director, Father Paul Nulley, Legionaries prepared for the Acies by completing St Louis Marie de Montfort's 33-day preparation for Total Consecration to Jesus through Mary.
The Legion of Mary's previous spiritual director for 21 years, Fr Bill Kennedy, was also in attendance at the Acies.
It was the first Acies for nineteen-year old university student, Vincent, who had just started at the newly formed Legion of Mary group at the Australian National University. 'I love Our Lady, and it was very wholesome to see everyone there express their devotion to Mary', said Vincent.
The Consecration and Holy Mass was followed afterwards by lunch, catching up with old and new friends, and a short afternoon catechesis on St Louise Marie de Montfort's classic of Marian theology 'True Devotion to the Blessed Virgin Mary'.
As a Catholic lay apostolic group, members of the Legion of Mary place themselves at the disposal of their parish priest and bishop to undertake any spiritual works of mercy, including visiting the sick, the shut-ins, the nursing homes, doing door-to-door visits to invite people to church, crowd contacts and leading public rosaries, to name just a few.
The Legion of Mary has around 10 million members worldwide, with large numbers in South Korea, Philippines, Brazil and central Africa. It is officially recognised and has the explicit approval of the Holy See, and is listed as belonging to the International Associations of the Faithful. 'The Legion of Mary presents the true face of the Catholic Church' (St Pope John XXIII, 13 July 1960).
In the Archdiocese, there are six parishes with local branches of the Legion of Mary. Meetings are held at St Joseph's (O'Connor), Sts Peter and Paul (Goulburn), St Matthew's (Page), St Monica's (Evatt), Holy Spirit (Amaroo) and St John the Evangelist Chapel (ANU).
Anyone interested in joining the Legion of Mary should contact LegionOfMaryCanberra@gmail.com.