Opportunities for women to come together in the Archdiocese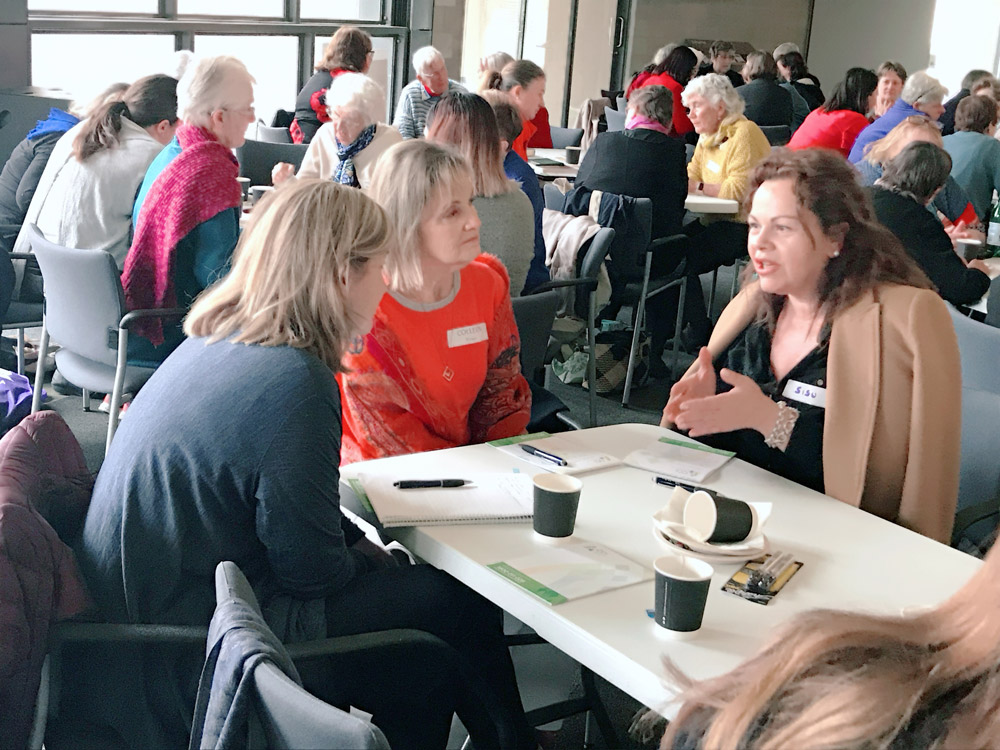 There are a number of significant events coming up over the next few months for women in our Archdiocese. The events are opportunities to come together to connect with each other and to be nourished and strengthened in faith.
Mother's Prayer Women's Retreat
Friday March 29 – Sun March 31
Registrations close this Friday for the annual Mothers Prayers Women's Retreat which is from Fri March 29 to Sun March 31 at St Clement's Galong. The theme of the retreat is Make your home in Me, as I make My home in you. The weekend costs $260 which includes single room accommodation, shared bathroom and all meals. Organiser Anne Hartwell says "All women are most welcome to join us on our retreat. We come away together to be cared for and blessed, to be nourished and enriched in God's love". Enquiries ring Anne Hartwell on 6282 0874 or email australia@mothersprayers.org
Anima Women's Network
Saturday April 6 from 2pm – 4.30pm
Local members of the Anima Women's Network are hosting a retreat afternoon at St Joseph's Parish O'Connor on Sat 6th April from 2-4.30pm. The afternoon's theme will revolve around the Stabat Mater, a beautiful 13th-century Christian hymn devoted to Mary as she witnessed the crucifixion of her son, Jesus. The retreat will include adoration, an opportunity for the sacrament of reconciliation and will finish with afternoon tea. Event organiser Clara Geoghegan says "Please join us for an afternoon of prayer and fellowship as we journey through Lent in companionship with Mary and the women who accompanied Jesus to the Cross. We hope this will be the first of such opportunities for the women of Canberra" Donation $10 for afternoon tea. Enquiries phone 0448 411 389 or email geoghegan.clara@gmail.com
Disciples of Jesus Twilight Retreat
Wednesday May 29
Women from the local branch of the Disciples of Jesus Community are hosting a Twilight Retreat on Wednesday evening 29th May. The theme of the retreat is: "REAL Life to the Full: how longing for a Pinterest-worthy life can stifle your mission and steal your joy". Event organiser Cathy Madsen says "Women of all ages are most welcome. It's a chance to reflect on your day to day experiences and connect them meaningfully with your faith in Christ". The event includes dinner, input, reflection time, small groups and supper. Cost is $15 for those who can afford it, otherwise just come. Enquiries contact Cathy Madsen on 0422 117 210 or cathcarlmadsen@gmail.com
Sisterhood Canberra Retreat Day
July 27 from 9.30am – 4pm
Sisterhood National Catholic Women's Movement are co-hosting retreat days around the country with the Dominican Sisters of St Cecilia. The Canberra Retreat Day will be held in the Haydon Hall at Manuka on Saturday 27th July from 9.30-4.00pm. Organiser Karen Doyle says "The retreat is a wonderful opportunity for women to take time out and to reconnect with God and other women of faith. The retreat welcomes women of all ages." The day costs $25 Enquiries ring 0499 877 833 or email info@sisterhood.org.au
Call to Connect
Another opportunity for women to grow in their faith is through the "Call to Connect" prayer sharing groups that presently operate in Canberra, Yass, Goulburn, Queanbeyan and Braidwood.
These groups meet every three weeks for prayer, hospitality and sharing the faith journey. Call to Connect offers resources and starter kits for new groups to form. Enquiries to Bronnie 0432 257 622