Plugged in and Pastoral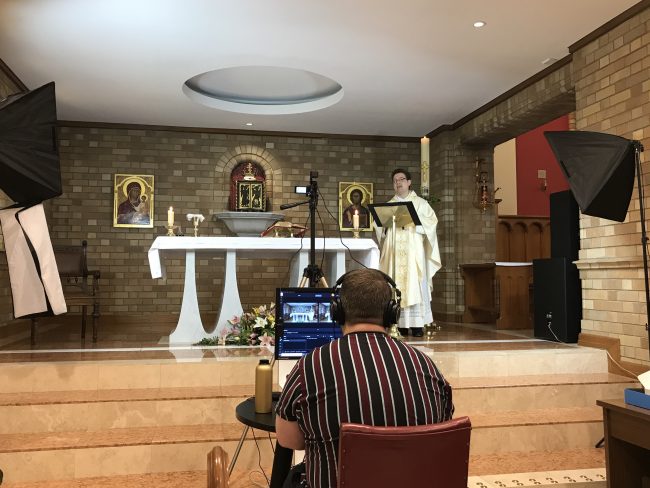 COMMUNITY is what Catholics cherish and priests and parishioners are doing their best to stick together at a time of distancing.
Technology is the key and across the Archdiocese people are fumbling their way through – moving parish book clubs online, setting up clergy audio messages and Zoom prayer meetings and live-streaming Mass.
For many older people not digitally charged, phone calls and letter writing are back in vogue, as the new pen-pal parishioner scheme at South Belconnen proves.
Meanwhile clergy have adjusted to saying Mass alone and having nothing in the diary.
"I have to imagine I have a congregation otherwise I find it too difficult to say Mass," Fr Simon Falk said.
Fr John Woods said his days at Curtin "are a strange mix of pastoral and other work, a retreat and sabbatical of sorts, a run or a walk and domestic routine.
"Having a wedding skyped to Canada and a funeral with only two mourners made the pandemic very real," Fr John said.
At Bega, Fr Luke Verrell said he was grateful to be live-streaming Mass as it kept him busy with his usual routine of preparing homilies.
"Being isolated is not that difficult for me because priests live solitary lives," Fr Luke said. "We are used to being on our own and have an inner life that you really need in times of isolation, that spiritual life."
The parishes of St Matthew's at Page and St Vincent's at Aranda have embraced new ways to connect with Fr Simon saying local links are the most important.
"Although there is a lot available from the broader church, people want to keep connected to their parish and diocese and keep that identity," he said.
With no wifi in the church, the parish office was reconfigured as an altar so Easter Masses could be streamed.
"It is challenging us to learn more and get across everything in a better way, which is often amusing too," Fr Simon said.
While acknowledging "the gift of technology" allowed him to watch Holy Week Masses and connect for online meetings, Fr John said being connected online was a poor substitute for being together.
"I have a renewed appreciation of 'the Church' as 'the gathering'," Fr John said.
He said the separation had made him value relationships, places and activities.
Isolated older people have been a focus for the South Belconnen community who have set up a pen-pal system with parishioners writing weekly messages that are delivered to four local aged care homes.
"At the Calvary Village you might have a married couple with one person in a villa and the spouse in the nursing home and they cannot see one another," Fr Simon said.
"How painful that is. I'm also conscious of some of our more quieter parishioners and concerned how they are going. It's a challenge to keep connected but we're doing our best."