Saint Elizabeth of Hungary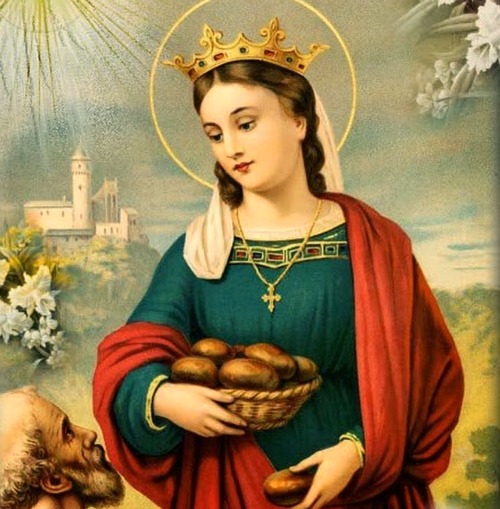 Today the Church celebrates Saint Elizabeth of Hungary.
Elizabeth was born to nobility in 1207. She was betrothed at age four, married at 14, widowed at 20, and died at 24.
Elisabeth's marriage to the young King Louis of Thuringia was a happy and affectionate one, and together they had three children.
Two years into their marriage, the teenage Elizabeth met some Franciscan friars. She was so captivated by the Gospel ideals of the (still living) Francis of Assisi that she began to live them herself. Her young husband was supportive of her many acts of charity towards the poor and needy.
When the plague broke out in Thuringia while Louis was away traveling, Elizabeth took charge, sold royal robes and ornaments to distribute alms around their territory, and set up a 28-bed hospital under the Wartburg Castle where she, herself, tended to the poor and sick.
Elizabeth was heartbroken at the death of her young husband and refused pressure from family to remarry. She took a vow of consecration, adopted a Franciscan habit and continued to serve the poor.
Francis of Assisi sent her a personal message of blessing shortly before his death in 1226. Following Elizabeth's death in 1231, so many healings occurred at her tomb in the hospital chapel that Elizabeth was canonised by 1235. She is patron of Third Order Franciscans