Support services needed more than ever this year
Even though Christmas is never easy financially for Ebony Juatowitch and her family, it's usually a happy time. But they are struggling to find the joy this year.
Ebony's grandfather, "who has been my male role model all my life", has been in hospital most of the year and was back home receiving end-of-life care only weeks before Christmas.
Her grandparents are the heart of the family and the shadow hanging over them has Ebony and her mother Gabrielle, who lives with her, dreading Christmas this year.
To counter that, they have tried to focus on making it a special time for Ebony's five-year-old daughter, Mack­aylee-Rose. "She doesn't really understand what's going on and we're trying to make it all about her," Ebony said.
The Covid lockdown has made it more difficult to make lay-by purchases, as she might usually do to manage the cost of presents, and filling the Christmas table is a formidable expense.
Ebony is grateful, therefore, for the assistance she is and will be receiving from St Vincent de Paul Society and other chari­table organisations.
Vinnies' Kambah conference members have contacted her to see what she might need in a Christmas hamper and the family will build their Christmas lunch around what they receive. Vinnies members also regularly check up on her and her family. "They're great," Ebony said. "They talk to me and ask how my grandfather is going, and they say they'll pray for him."
Vinnies Canberra/Goulburn Territory President John Feint said providing targeted hampers through local conferences is a key part of Vinnies' two-pronged approach to Christmas assistance. The other prong is the Christmas Appeal, which is aiming to raise $275,000 to offset the costs of hampers as well as Vinnies' other services to people in need.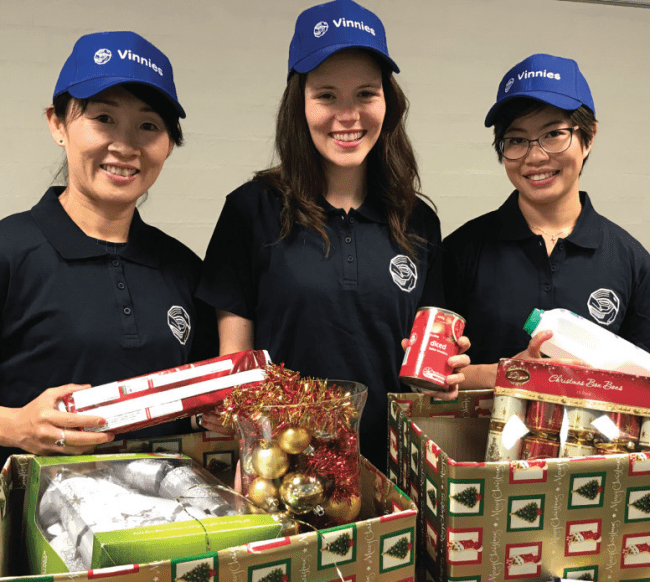 These services are needed more than ever this year because of the impact of Covid. Reports from the ACT Council of Social Services and from research by the Snow Foundation and Hands Across Canberra in the past three months have shown levels of poverty and hardship have risen to more than 9 per cent of the population.
"The calls for assistance [to Vinnies] have increased since JobSeeker payments have been phased out," John said. To make matters worse, the NSW Food Bank, which usually provides hampers that local confer­ences can adapt and add to, is unable to do so this year, which John put down to increased de­mand and fewer donations from businesses hit by lockdowns.
John said his Gowrie conference, and others, are conducting donation drives through their schools and parishes. "We try to customise hampers to suit the needs of families," he said. "We try to make it a real gift of love for that family."
Donations of food and gifts (including vouchers, especially for teenagers) can be made through local conferences or Vinnies shops, and donations to the Christmas Appeal can be made through vinnies.org.au. People who need assistance in the Canberra region can call the Vinnies helpline on (02) 6282 2722.