The couple, the priest plus two
Canapes on the terrace at the Commonwealth Club in Yarralumla with dinner to follow, a six-piece band and three-tiered cake.
Not to mention the 167 guests.
Stockbroker Tom Kenyon and lawyer Emily Tighe had everything planned for their April 4 wedding at St Christopher's Cathedral.
Until the coronavirus.
Despite some sadness and a few tears, the couple went ahead and are delighted they did.
"In some ways it's been nice to have everything pared back," Emily, 29, said.
"You spend so much time imagining what the day will be like but it's been a good change in perspective.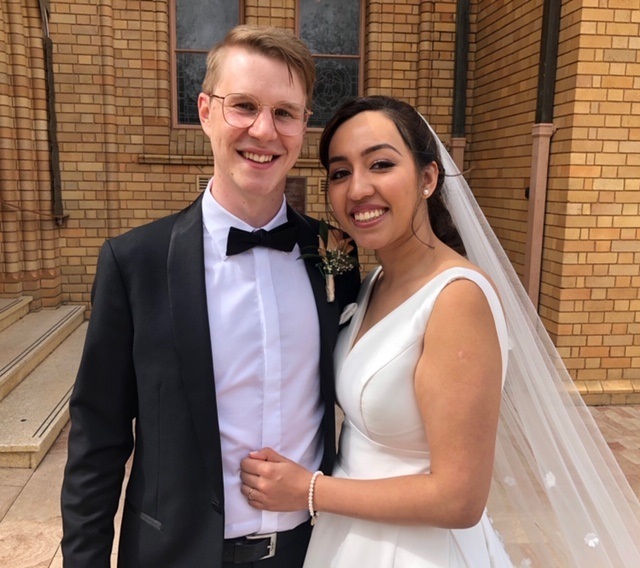 "I come from a devout Catholic family in Parkes and it has focused us on being married, which is all that really matters."
It was the same thinking for Joseph McDonald and Mystique Nelis who married a week earlier.
"The sacrament is so important to us and our nuptial mass was something we had been planning and looking forward to for a long time," Joseph, 27, said.
"We love each other and felt called to go ahead."
Tom and Emily joked they did not have to be picky about guests.
"Scott Morrison did the choosing for us," Tom, 34, laughed.
They had their mothers in the church while Joseph and Mystique each had a sibling.
Tom is an Anglican and not overly religious.
"Having a cathedral wedding is a sign of respect to Emily and her family and their faith," he said.
"I'm converting him," Emily chuckled. "It's my recruitment drive."
Joseph and Mystique, 26, grew up in Catholic families and attend St Christopher's Cathedral.
"I moved to Australia from the Netherlands 16 years ago and in Dutch we talk about 'levenswandel' which translates to walking the path of life," Mystique said.
"Through the sacrament, we have started a new chapter on this journey."
Both couples met at work – Joseph and Mystique are public servants who met at a training course while Tom and Emily worked in the same building. They kept meeting in the lift and coffee shop and eventually Tom asked Emily out.
Emily's parents drove from Parkes for the wedding and joined the newlyweds afterwards for cake and sandwiches at their Hackett home, with some of Tom's family.
"We almost put crosses on the floor to mark where people could stand," Tom joked.