Vocations Awareness Week: the priesthood
"The harvest is plentiful, but the labourers are few; therefore ask the Lord of the harvest to send out labourers into his harvest" (Matt 9:38)
On Holy Thursday Jesus gifted his Church the ministerial priesthood, and with it, his abiding presence in the Sacrament of the Eucharist. For this reason, Holy Thursday is one of the most important days in our Catholic Faith. Saint John Paul II reminds us that "there can be no Eucharist without the priesthood, just as there can be no priesthood without the Eucharist"
The word vocation itself comes from a latin vocare, which means to call. A vocation speaks of how God is calling one to live out their life in service and love of Him and therefore others. We are all called in the Body of Christ to know, love and serve God. This is known as "the universal call to holiness". To know, however, how it is that we are to live out this vocation involves the intimate role of discernment.
Thomas Keating, a Cistercian Monk, in a book he called Invitation to Love, once wrote that "silence is God's first language; everything else is a poor translation." In every moment when Christ called his first disciples, it was always a case of them simply listening – and allowing themselves to hear the call! Jesus called them from the most mundane, ordinary situations and places in their lives. He called them gently and then allowed them to make the choice to follow him or not. Is he calling you in the same way?
I think a particular truth can be lost in the midst of busy lives, that our God is not a God who plays games, whispers unintelligibly or hides Himself from our presence. But…. he does often speak quietly. Through his Church, and directly to the human heart. God continues to call men even today to serve as priests (Matt 4:19) but the question is, do we have ears and the silent moments to hear this call?
Come and see! (John 1:39).
Considering the great gift given on that first Holy Thursday in the upper room, every first Thursday of the month from 7.00pm in Saint Christopher's Cathedral Chapel, there is an hour of Adoration and prayer, a time to listen and pray in the silence of God.
Do you feel that Christ may be calling you to His Priesthood? Come along to simply listen… to Him. Following the Holy, Hour is a time of fraternity and an opportunity to talk in the Haydon Hall (8-9pm).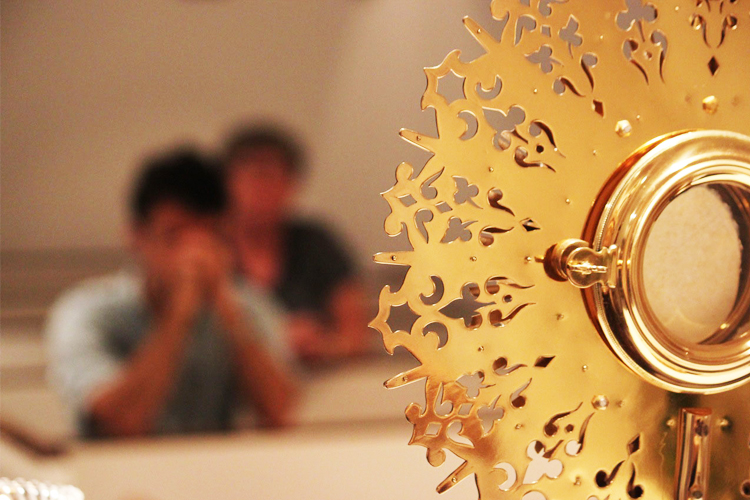 Pope Francis tells us that discovering one's vocation "has nothing to do with inventing ourselves or creating ourselves out of nothing. It has to do with finding our true selves in the light of God and letting our lives flourish and bear fruit." (Christus Vivit, 257).
These evenings are opportunities too, for all to come together to ask the Lord to bless our Archdiocese with priests for the future. Youth ministers and groups from around the archdiocese will join us in prayer and music, and you are invited to join us too. After all, as Pope Emeritus Benedict XVI once observed, vocations "can only flourish in a spiritual soil that is well cultivated." As Christ's Body, the Church continues to pray every day for the gift of vocations to the priesthood and the whole Church continues the journey with those who answer the call.
"Gathered around the Virgin Mary, Queen of the Apostles, as in the beginning, the ecclesial community learns from her how to implore the Lord for a flowering of new apostles, alive with the faith and love that are necessary for the mission."
The times we live in are good times, they are good times because in many ways they are dark times… and it is in the midst of darkness, that the candle glows ever more fiercely and every more brightly (John 8:12). It is a great time to be a priest!
Let us all continue to pray for future priests. Priests who with the humility, courage, and power of Christ are sent out into the world to serve as shepherds after His own Heart.
If you feel the Lord calling you to explore the possibility of the priesthood or consecrated life, or if you would like more information on the Archdiocese of Canberra & Goulburn's discernment initiatives, please contact our Archdiocesan Vocations Director Fr Paul Nulley: paul.nulley@cg.org.au, or the Assistant Director Fr Trenton van Reesch: or trenton.vanreesch@cg.org.au.
Download the Sharing the Call Brochure