Week Five: Archbishop's Pastoral Parish visits
MARY HELP OF CHRISTIANS PARISH
During the months since the beginning of the CORONA19 virus pandemic our parish has continued to function well, though in a new 'normal' way. We are able to exercise our mission of welcoming and the sanitation requirements have helped us organise a new ministry which has been taken up spontaneously and with good spirit.
One interesting thing to note is the enquiries from several adults to become members of the Catholic Church. Our RCIA team have continued to meet regularly and are just now starting to reach out to those enquirers. Even when life seems to throw us challenges, there is still much to celebrate and for which we can be grateful. Perhaps COVID has created this opportunity for us where we have learnt to slow down, listen gently and respond rather than react. For people of faith, this is really is like an extended retreat.
One of the biggest challenges comes when funerals are organised. Restricting numbers at that time is not without further pain, but local funeral directors have been helpful with making live-streaming available.
Another challenge has been re-booting parish sacramental programmes. This has created an opportunity for us to become creative and also lean on members of the parish and school who have skills in on-line presentations and IT. The opportunities that have arisen are seen as something positive, not a threat to be avoided. With good people and good teams working together on our common mission of Worship, Word, Works and Welfare, we are gently thriving and not just surviving.
The commitment and faith of parishioners who simply love the Lord, love their Church and strive to love each other, is such a source of encouragement. These strange time have brought out the best in us.
---
HOLY SPIRIT PARISH GUNGAHLIN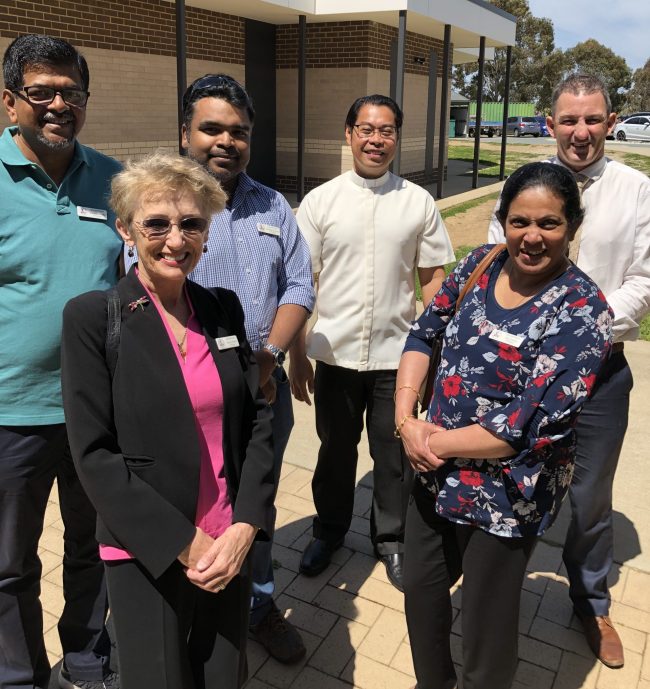 The Archbishop visited our Parish today, 15 October 2020. The last time we saw His Grace was Saturday, 21 March when he celebrated nearly our last Mass before lockdown. That day was full of uncertainty and fear but today we welcomed him with hope and determination.
The pandemic has been hard on us; we are a big community with nearly 800 people attending Mass every week, along with three heaving primary schools and a rapidly growing secondary college.
Communication and community are keywords for us; there are around 18,000 Catholics in Gungahlin and we are extremely fortunate to have designed and implemented our own App for our parishioners' smart phones. The App, Pocket Parish – Holy Spirit, kept all our parishioners in the loop, even when the rules changed almost daily. It was also a wonderful vehicle for getting our enhanced, community focused parish bulletin into every home.
The size and diversity of our Parish prompted us to put on our own Zoom Mass every Sunday and it was warmly embraced by all. It was a great feeling to still attend Mass with all your parish friends and to see and talk to them through Zoom, while safely locked down in your home.
We sincerely mourned with parishioners who lost loved ones over the Covid period and couldn't see them before they passed or attend their funeral. We will honour them all on All Souls Day. We celebrated with the 180 children who made their confirmations and another 180 who made their First Eucharist, conducting 12 extra Masses for each Sacrament!
We miss our elderly companions who have not yet returned to the Mass community and we are searching for all those young people who used to come to Mass – where are you?
As Catholics often say: "we are on the journey", we meet each challenge as it comes, do our best and take the good from it.
As we open our parish once more, we open our hearts and prayers in welcome to all.