'Companion on the Journey': Bishop Pat reflects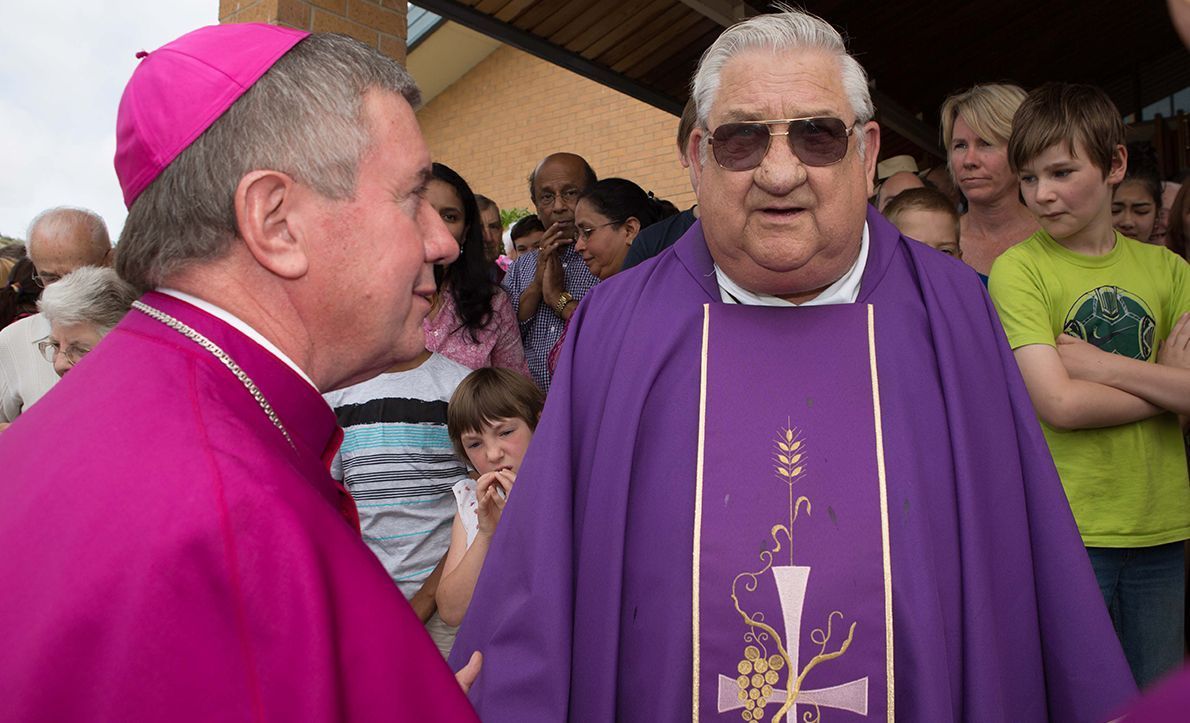 Father Laurie Blake: 15 October 1937 – 9 February 2022
With the death of Fr Laurie Blake the Archdiocese of Canberra and Goulburn has lost one of its best priests – a man with a truly pastoral heart.
Laurie was always proud of his Goulburn origins which shaped much of his human and priestly character. Goulburn lays claim to being Australia's first inland city, but it was country life which I saw most influencing Laurie in his formative years. He loved bush-walking, not only in the Goulburn district, but in his seminary days at Springwood and in the Blue Mountains.
On a number of occasions I was a part of groups which he led through Bungonia Gorge. It was a challenging walk but Laurie was very much up to the task, both personally and in helping stragglers like myself to finish the course.
His time at St Patrick's Technical College in Goulburn helped him to hone his skills particularly in woodwork in which he produced some impressive pieces.
In many ways, he was ahead of his time in his deep appreciation of the world of nature. In 2015, Pope Francis published his widely acclaimed encyclical letter, Laudato Si' on Care for our Common Home. Fr Laurie never had any pretensions about his theological expertise, but he knew what it was all about in terms of God's love for us in regard to human relationships and the gift of creation in which we are all able to be enriched.
The Pope could well have been speaking about Laurie Blake when he wrote, "Christian spirituality proposes a growth marked by a capacity to be happy with little. It is a return to that simplicity to stop and appreciate the small things, to be grateful for the opportunities which life affords us to be spiritually detached from what we possess and not to succumb to sadness for what we lack."
Laurie Blake learnt all that from his wonderful parents. It was consistently part of his spirituality in 56 years of priesthood.
Being on dialysis three days a week for the last couple of years must have been a trial, but he accepted it with equanimity.
One area of particular interest for Laurie was the youth ministry of the Young Christian Workers and the Young Christian Students, a movement begun by Belgian priest Joseph Cardijn. The method was See, Judge and Act: formation through action.
Many chaplains, Laurie and I included, attributed much of our own formation to all that, saying how much we learnt from the young people involved. It is said that the Cardijn method had a strong influence on the Second Vatican Council which did so much to enhance relationships between the Catholic Church and the modern world. All this enabled Fr Laurie to relate so well to his parishioners and also to the wider community.
Fr Laurie was a very effective prison chaplain in both Cooma and Goulburn. His father had been a prison officer in Goulburn. I'm not sure whether that was a plus or minus for Laurie who was very much at home in that challenging environment.
I am confident that his non-judgemental nature stood him in good stead. Laurie was simply his true self to all concerned, never trying to take sides. Such authenticity came as second nature to our friend who was a "companion on the Journey" to everyone in following Jesus as the Way, the Truth and the Life.
May our dear friend and brother rest in peace.
–