Book Review: Prison Journal Volume 1 by George Cardinal Pell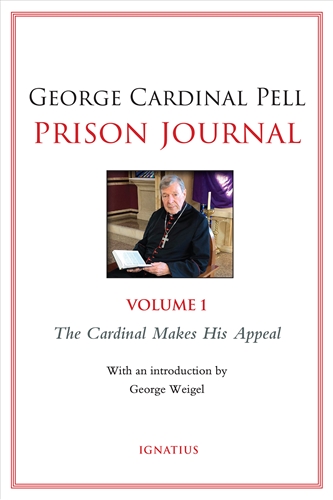 Prison Journal Volume 1: The Cardinal makes his appeal, 27 February – 13 July 2019
by George Cardinal Pell
Available from the Canberra Catholic Bookshop
This is a fascinating book. One of my brothers thinks it is the most inspirational book he has read in a long time. My wife thinks it is amazing. I agree with both sentiments.
The most fascinating point is: How did Cardinal Pell, a prince of the Church, convinced of his innocence, cope with his "fall from grace" and the destruction of his good name?
He coped by keeping himself busy, a key decision from day one – "The devil makes work for idle hands." He established a daily routine of many activities: the most important of these was prayer and meditation. At the end of each day he finished his journal entry with a prayer/mediation, which can be used by readers.
On Sundays, as he was unable to say Mass, he tried to start with Mass for You at Home on Channel 10. He followed that up with telecasts from Hillsong, or evangelical pastors such as Joseph Prince, and then with Songs of Praise from England (which he loved), what he called "My morning of Protestant devotions". He also followed prayer of the Church in his breviary and meditated.
The Catholic prison chaplain Sr Mary, would visit him weekly and bring him Holy Communion. She often brought him "sermons" to read and meditate on. His comments on this spiritual nourishment are interesting, sometimes amusing, or blunt, but always with personal humility.
He continued to show interest in his family and many friends. Indeed, the constant stream of visitors was extraordinary. He received regular visits from, and had consultations, with his legal team; at least the Melbourne members of which, "are very good but Godless".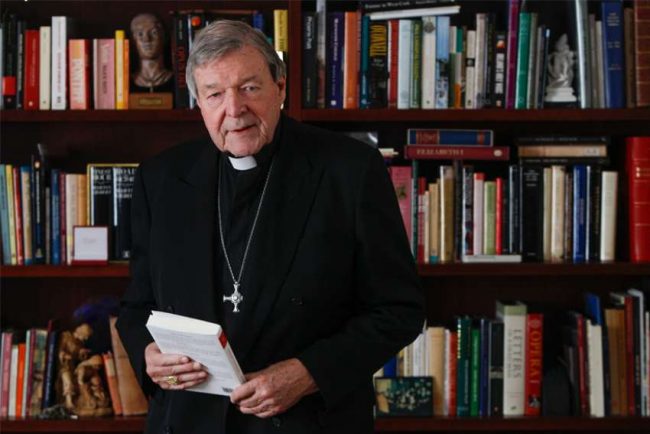 He gave an acute insight into prison life – how slowly things happened, how courteous and helpful the staff were in the main. He told us how he swept and mopped his cell, cleaned the toilet and changed his bed linen. He told us about the "bangers" and "shouters" in his unit who disturbed the peace, the concern showed for him by management of the prison. He also received letters from prisoners, including James Gargasoulas, the Bourke St murderer, who sent him many letters. Some of the prisoners thought he was innocent. He received many letters of support from all over the world and said that this helped him greatly. The amount of mail he received significantly challenged the resources of the prison.
He watched a lot of TV including news services, Michael Portillo's train journeys, AFL football having a particular interest in Richmond. He attempted two Sudoku puzzles daily and he read many books, including Leo Tolstoy's War and Peace.
He would take his one hour, a day, of exercise outside his cell in two half-hour periods in which he would walk and pray the rosary. He always made reference to the weather conditions and whether or not he could see the sun or hear the birds. Eventually, he was allowed to use the gym, where he would walk and bounce a basketball, using both hands, which assisted his co-ordination.
In his journal he reflected on theology, history, politics, literature, computing and other disciplines, covering such topics as: the mystery of the Trinity, the origins of the devotion to Mary, repentance, Tolstoy's theory of history. Also, he reflected on artificial intelligence, prompted by reading a book AI Superpowers by Kai-Fu Lee. The breadth of his reading was amazing.
He reflected on forgiveness in general, but, also, as it applied to his own situation. He didn't find it hard to forgive the complainant, but found it harder with "those around him [the complainant] and those who destroyed my good name in the media".
Whilst waiting for the result of his appeal to the Victorian Court of Appeal, he reflected that an unexpected rejection of the appeal would not be a blow as prison, although, not something he enjoyed, was a time of many blessings. He was much more comfortable, than were so many of his Catholic prison heroes "[St John] Fisher, [St Thomas] More, [St Maximilian] Kolbe, [Francis-Xavier Nguyen] Van Thuan".
The depth and range of his intellect is constantly visible. The structure and discipline in his daily activities leaves the reader in awe of his faith and resilience.
Chris Rule is a parishioner at St Anthony of Padua Parish in Wanniassa