Breaking the habit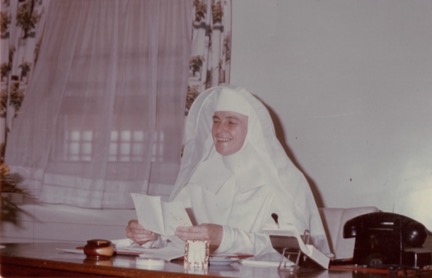 For a small town country girl, nothing was out of reach for Linda Sheahan. She grew up in Jugiong with a love of the country, and a passion to care for those who needed it most.
After entering the Goulburn congregation of the Sisters of Mercy as a registered nurse and midwife in 1950, she was professed as a sister on 13 May 1953; Sr Dominica, or Sister Dom as she was known as by many for more than 50 years thereafter.
After an influential life, at the age of 97, Sister Dom was granted her final wish; to return home to Jugiong to be at rest.
Upon entering the Sisters of Mercy, Sister Dom took on the motto 'thy will be done'. Over the years, she worked tirelessly in Albury, Cootamundra and Young where she cared for the sick and provided support for their families.
A force to be reckoned with, and a woman ahead of her time, Sister Dom was a catalyst for health care development in Young. Sister Dom prepared Mount St Joseph's Home and the Mercy Hospital for development as a centre of excellence for the region. Mount St Joseph's Home has for many years provided a service of care for the frail and aged sisters, and the transfer of sisters from Cootamundra to Young. The Mercy Care Centre now functions to provide geriatric, rehabilitation, and palliative care for patients and relatives of all religious denominations.
She was also one of the first nursing sisters to live in a unit in the Mercy Care Retirement Village in Young, where she always had an 'open door' and warm welcome for sisters and family when they visited.
A fellow sister and friend Kate McCarthy, RSM (known as Sister Bede) wrote a tribute to Dom on her Diamond Jubilee in 2013.
Sister Kate first met Dom during her nursing training in the 1950s at Sacred Heart Hospital, Cootamundra, when Dom was a young nursing sister in the convent.
"You will be remembered for many things Dom, amongst which will be your outstanding generosity, kindness and hospitality," Sister Kate said.
"Whenever any of your religious sisters were sick, dying or experiencing the death of their loved ones, you reached out in mercy and compassion – thank you for this and so much more."
During the last few years of her life, Sister Dom struggled to remain independent as she came to terms with her low vision and as she started to lose her memory. It was hard for her to accept that she needed the care of others as she had done for others for so many years.
She was loved and cherished by many, especially her family who looked up to and adored their 'Aunty Dom.' Her memory will live on, particularly in those who are named after her, and who are following in her nursing footsteps.