Brother Brian Berg pulls up stumps
Braidwood farewelled one of its local legends last Sunday – Brother Brian Berg.
After 12 years as our parish associate, Bergie decided to retire at the ridiculously young age of 91. (He clearly lacks commitment!)
The meeting hall at the local Club was full – not just with his Catholic community but representatives of the whole town.
The Principal at St. Bede's, Marylou Gorham, talked of his commitment to the school. Local Uniting Church Minister Graham Long spoke movingly of his work bringing together all three of the town's Christian communities. Parishioner Les Hart spoke from the heart about his dedication to every aspect of our local Catholic community – meditation group, prayer groups, St Vincent de Paul conference, social justice committee and the scripture group. Father Richard Thompson, Vicar General for the Diocese, described his long association with Brian from his days in Young right up until the present and his contribution to the Diocese as a whole. His mate and fellow NRL tragic Ged Galvin commiserated with him about the fate of Wests Tigers and ceremonially presented him with a wooden spoon – in honour of his undying devotion to the Tigers. Our very own Poet Laureate and Chair of the Parish Council, Cathy Ffrench rewrote the words to the NRL anthem "Simply the Best" and when that was sung (our own Sistine Choir was surely at least as good as Tina Turner), Brian really did just about die of embarrassment.
His activity just that morning was typical of the man. He is absolutely committed to giving a Voice to the Aboriginal people of Australia – but arrived late for Sunday's march through Braidwood. He apologised – he had been taking communion to the hospital's patients and residents and they had wanted him to stay and talk – what could he say? He just had to give them time. That's been Brother Brian for the past 12 years.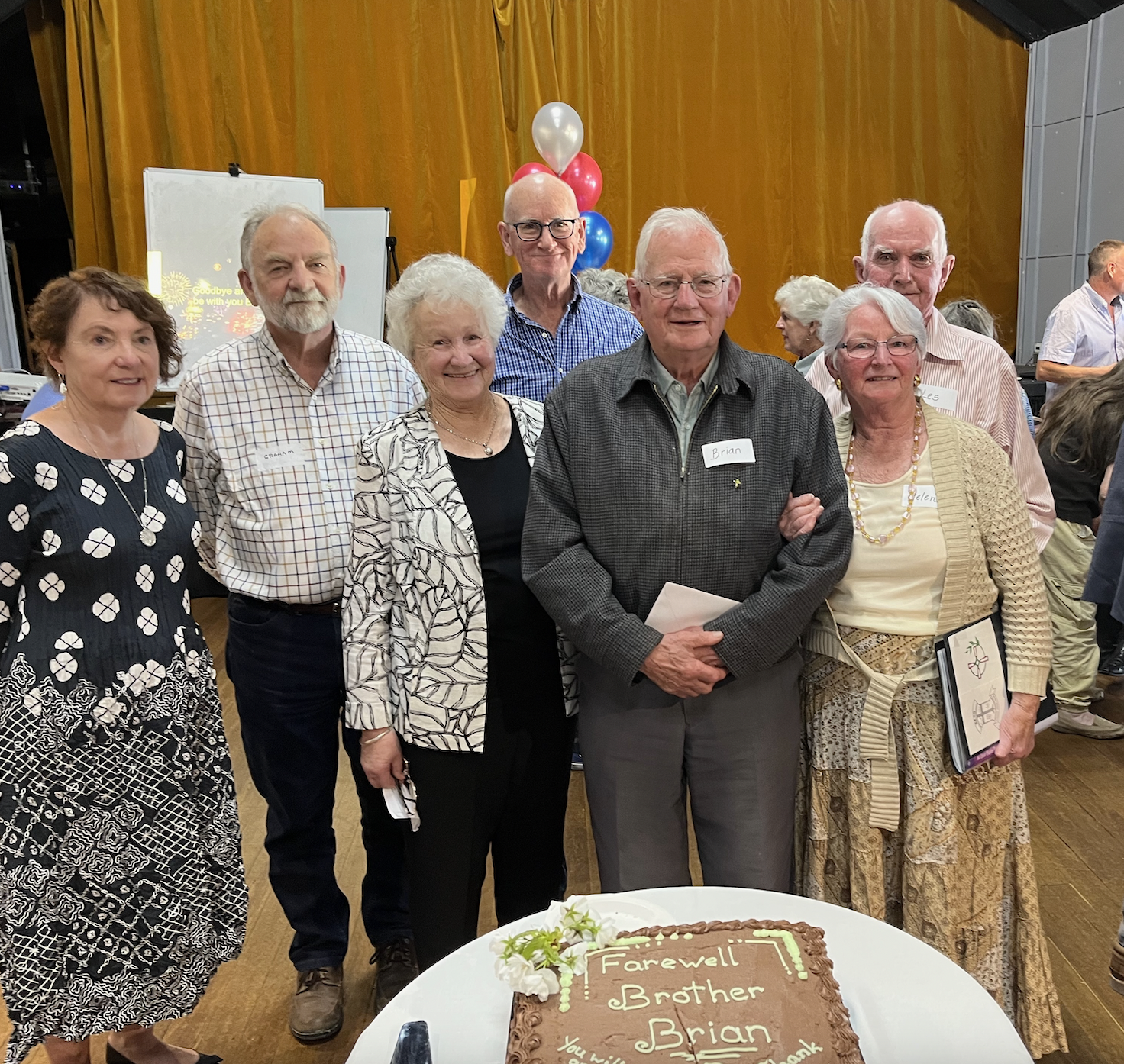 He came to Braidwood at the age of 79 – for most people surely a time to be retiring. But his time here has been marked by his determination to build unity across the whole community, making the church a place of welcome for all of us sinners; encouraging us to think deeply about our own spiritual life; challenging us to deepen our faith and commitment to the poor and those on the margins of society.
Above all, Bergie is a Pope Francis man. He judges no-one. He is open to all of us. For twelve years he made the presbytery a house of both physical and spiritual sustenance – virtually every speaker talked about his pumpkin soup! If he found you homeless at night in the church grounds you were invited in for a meal and a bed.
He is open to the future of the Church as a place of welcome to all. He forced us to think through exactly what it was that Christ was telling us in the scriptures and act on that good news.
His congregation – the Christian Brothers – now takes him back to their community in Balmain. We will be forever indebted to them for allowing him to live amongst us and truly model what it is to be a Christian.
He leaves behind a Braidwood community that has been fundamentally changed for the better.