Fr Bill Kennedy: A diamond nonagenarian
It would be correct to say that St Mary's Church Crookwell has featured in many of the significant events in Fr Bill Kennedy's notable 90-year life.
Bill was baptised at St Mary's in Crookwell, where he served as an altar boy, learned the Latin Mass, made his first confession, received his first Communion, and was confirmed and ordained a priest.
Described as a "scallywag," young Bill's antics were legendary amongst close family members. Those who knew Bill marvelled at his sense of mischief, showmanship, and sound financial sense. His niece, Vivienne Flanagan, recounts the time Bill provided his father with a startling surprise.
"He had carefully prepared his father a roll-your-own cigarette complete with a tiny firecracker! His financial acumen was also demonstrated early with the setting up of a fair in the back shed where he charged a fee for rides of the merry-go-round constructed with a plank threaded through the spindles of his father's office chair."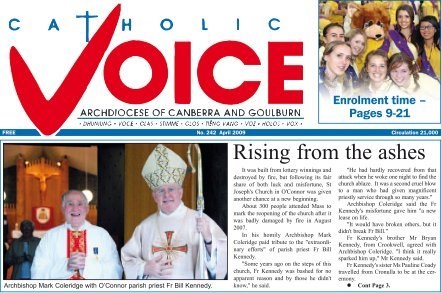 After his education at St Mary's Crookwell and St Patrick's Goulburn, he worked for the Commonwealth Bank with postings in Yass, Hurstville, and Kogarah.
The second of three children, Bill's desire to become a priest, was thought of as surprising by some; however, he attended St Columbia at Springwood and St Patrick's Seminary, Manly from 1951-1960
Following his ordination, in July 1960, Bill became a priest for the Archdiocese of Canberra and Goulburn, where his great uncle had served as the first bishop. In 1974, he moved from Braidwood to the newly established Canberra suburb of Kambah to take up an appointment as the parish priest. Bill's first task was to build a school which was officially opened in 1977 by Senator Carrick and Archbishop Thomas Cahill. During his time at the parish, Bill baptised 1750 babies.
After 17 years at Kambah, Bill's goal of establishing a parish free of debt was achieved. Kambah parishioners nominated Bill for an award for services to the community and in recognition for his work with migrants. A Medal of the Order of Australia was awarded on 26 January 1995.
Other parish appointments included Braddon, Young, Murrumburrah, Cootamundra, Braidwood and O'Connor.
While parish priest at St Joseph's O'Connor and at the age of 74, Bill suffered a terrible bashing from a stranger while attending a parish meeting. His palate, jaw and nose were broken and his eye socket damaged with both eyes blackened. Fortunately, two doctors were attending the meeting and provided immediate assistance, which saved his life. After reconstructive and plastic surgery was undertaken and Bill had sufficiently recovered, he returned to his parish and resumed his duties.
He still suffers from the ongoing effects of those injuries. However, more anguish was to follow.
Just three years later, on the feast day of Mary McKillop, the O'Connor Parish was devastated by a deliberately lit fire. The Parish Centre was destroyed, with damage to the roof and the interior of the Church.
Bill was woken in the early hours of the morning of the fire to find the building alight.
"Most of the roof was destroyed, and the fire went up… through the tower which acted as a chimney," he said.
The church spire was gutted by the blaze but the seats and much of the original artwork, such as stained-glass windows from Ireland, were left untouched.
"They weren't damaged in any way, nor was the crucifix at the altar and those wooden carvings of the rosary, all of those were preserved," he said.
The church's remarkable design saw the central spire in the roof act as a chimney drawing the fire inwards and away from the outer walls and the beautiful stained glass windows of the Church.
Devastated by the fires and tempted to retire, Bill's indomitable spirit came to the fore as he once again used his financial skills to assist the parish. After 18 months of reconstruction work, the Church was reopened and blessed by Archbishop Coleridge on the Feast Day of Saint Joseph.
In 2016 Bill finally retired and moved to Lanigan House where he continues to serve the Archdiocese. Apart from being a parish priest, Bill also spent time assisting with the Diocesan finances and supporting his good friend Fr Brian Maher as an archivist.
Over the last 60 years, the family has called on Bill's priestly duties from the baptism of his niece Margôt Kennedy on the day of his ordination to the recent baptism of his great-great-nephew Charlie William Kennedy in April 2020.
Although currently unable to fulfil his role as Chaplain to Clare Holland House and to the Canberra Serra Club, due to the COVID-19 restrictions, Bill's faithful service over many years is well known and relied upon within the community.
Thanks to Fr Bill's niece, Vivienne Flanagan who provided much of the content for this article.