Helen Bramanathan receives Archbishop Award for 2020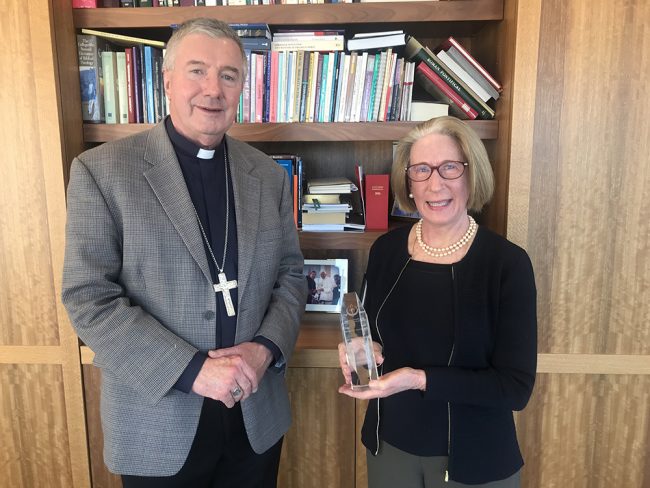 Helen Bramanathan of St Thomas More Primary Campbell has been awarded The Archbishop's Evangelisation Award for 2020.
The Archbishop's Award acknowledges the emerging leadership in Religious Education, and this year Helen has been recognised for her work in promoting Christian Meditation.
Helen was honored to receive the award and has described Christian Meditation as "a coming home." She is deeply committed to providing opportunities for the children in Archdiocese schools to experience God's love through this form of contemplative prayer.
"When I found Christian Meditation, it was a special moment, and it is a journey, and it certainly is a very important part of my life now," she said.
Archbishop Christopher Prowse was thrilled to present Helen with the prestigious award to acknowledge her contribution in classrooms, schools, the office, and beyond through her work in promoting Christian meditation.
"I am so delighted to see that Helen's leadership and the leadership of others are enabling our schools and also our parishes to get very much involved in meditation, and I would encourage that in the schools that haven't been involved as much," he said.
Helen has been working with many teachers and students across the Archdiocese, providing much-needed support as they look to implement Christian Meditation into their classrooms.
"There are schools that have established this practice right throughout their school, and it is very embedded and ongoing," she said.
"Some children have gone from kindergarten where they began Christian Meditation to being high school students now, so there is a real feeling that they have grown in their prayer life, and grown in the way they treat other people."
The award is one of many Catholic Education awards that generally occur at the Catholic schools recognition mass and awards, but was unable to go ahead this year due to the pandemic.