Irish and Australian – A Priest at War
In 1913 representatives of the Anglican, Presbyterian, Roman Catholic, and Methodist denominations met with the Australian Army's Adjutant General, Lieutenant Colonel Harry Chauvel, to establish the structure of the Australian Army Chaplains Department. It was agreed that each denomination would appoint one chaplain general, and one senior chaplain per state to administer that denomination's chaplains. One chaplain from each of the four denominations would also be attached to each infantry and light horse brigade. In total, the proposed establishment would comprise 116 chaplains. The Australian Army Chaplains Department was promulgated in the Commonwealth Gazette on 20 December 1913.
On Remembrance Day, Alastair Bridges writes for the Catholic Voice about one of the many Catholic Chaplains who served in the Australian Infantry Force.
---
Catholic Chaplain Michael Bergin was born in Ireland on 18 August 1879 and moved to Cairo as a professor at the Holy Family College. He spoke English, French, and Arabic.
The Australian Infantry Force (AIF) arrived in Egypt for training in December 1914. No doubt Father Bergin met many Australians, probably hearing of the undisciplined behaviour of some.
Father Bergin joined the AIF at the age of 35. On 12 May 1915, he was taken on strength at Anzac Cove, Gallipoli (four weeks after the initial landing), at first as a stretcher-bearer.
It seems that Father Bergin put the fear of God into the troops in his sermons. However, he was always very kind in the field. He was evacuated to the hospital on the island of Mudros in June 1915, suffering from influenza and diarrhoea.
On 5 September, he joined a hospital ship to be transferred to the 3rd London General Hospital suffering from enteric fever (typhoid fever). He spent a month in this hospital before returning to the island of Lemnos off Gallipoli and was then posted as Chaplain to the Australian General Hospital at Alexandria.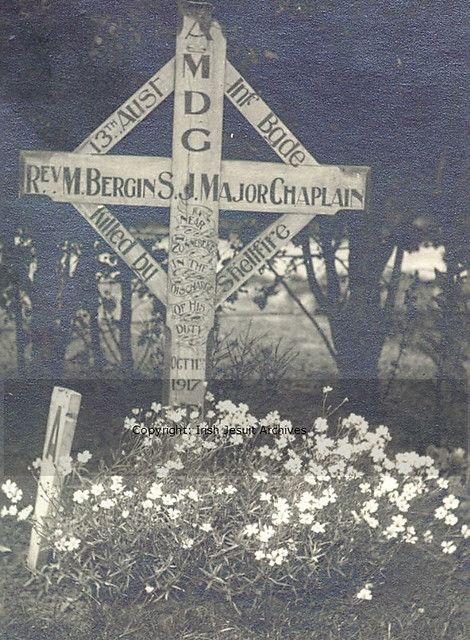 On 26 March 1916, he was posted as Senior Chaplain to the Australian 51st battalion and transferred to France in June 1916.
His official casualty report states that he 'Died of Wounds (received in action) 12/10/17'. It says that Father Bergin was admitted to '3rd Australian Field Ambulance, France or Belgium in the field. On the day that he died, he was buried immediately after his death.
His inventory was practical and straightforward. It included books, slippers, pyjamas, and a razor.
The following letter to his mother is typical of the time. It is dated 26 January 1918, our future Australia Day. There was much disagreement over a date for Australia Day, by the way.
'Dear Madam,
With reference to the report of the regrettable loss of your son, the late Chaplain (3rd Class temporarily) the Reverend M. Bergin, attached to 51st Battalion, I am now in receipt of advice which shows that he died at 3rd Australian Field Ambulance, France or Belgium, on 12 October 1917, of wounds received in action, and was buried the same day at Reninghelst.

'These additional details are furnished by direction, it being the policy of the Department, to forward all information received in connection with the death of members of the Australian Imperial Force.'
The letter is addressed to Father Bergin's mother at Fancroft, Rosscrea in Tipperary. Officially, he was killed in action.
This Irish Chaplain who tended an Australian flock was posthumously awarded the Military Cross on 1 January 1918 'For distinguished service in the field'. The official records of 1 January 1918 state that the reason for the Military Cross is not recorded – 'no Official Citation'. However, there is a note dated 20 September 1917 in the Australian National Archives about Michael Bergin, written by Brigadier Thomas Glasgow, commanding the 13th Australian Infantry Brigade to which Bergin belonged:
'Never absent from duty, always performs his office unostentatiously but with magnificent zeal and courage. In the line or out, Padre Bergin is always to be found among his men, helping them when in trouble and inspiring them with his noble example and never-failing cheerfulness. These are the characteristics that have endeared him to all and make him such a valuable asset to the Brigade.'
Brigadier Glasgow was born in Maryborough, Queensland. He was a stern disciplinarian who lobbied for the death penalty for a group of Australian deserters. The 13th Australian Infantry Brigade fought on the Somme at Moquet Farm in September 1916 [it was here that the three Potter brothers – Ed, Hurtle, and Tom – died within 24 hours. One can imagine the grief of their parents in Port Pirie upon receiving the news], at Messines in June 1917 and at Polygon Wood in September 1917, where there were nearly 6,000 Australian casualties.
The nearest Father Bergin got to Australia was Gallipoli. He became an Australian when he put on the AIF uniform. That is why his name is on panel 185 of the WWI Roll of Honour at the Australian War Memorial, one of 61,000 fellow Australians who gave their lives.
Alastair Bridges joined the Royal Australian Air Force (RAAF) when he was 21. In 1967 and 1968, Alastair flew helicopters in the Vietnam War. He moved soldiers, including the wounded, in and out of the jungle, and often under heavy fire.