Mary Help of Christians Parish "Christmas Tree"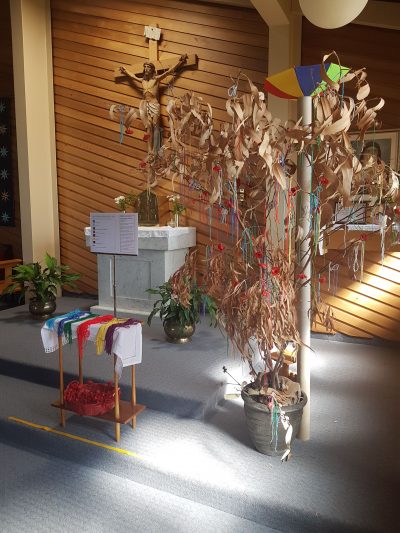 With apologies to Charles Dickens, this is no "Ghost of Christmas Past".
In a departure from previous years, Mary Help of Christians parish at South Woden has forsaken the traditional Christmas tree and installed the dead branches of a Eucalyptus tree for its season of Advent.
"It's designed to serve as a powerful symbol and reminder of the plight of our farmers and others battling the drought," says parish priest, Fr Richard Thompson.
"In recognition of that suffering and instead of the customary star, the 'tree" has an upturned umbrella at its apex," he said. "The umbrella will stay upturned until we have rain and only then will we turn it the right way up."
"A 'Prayer for the Gift of Rain' is alongside the display and we invite parishioners and visitors to spend a moment in reflection and prayer at the tree," Fr Richard said.
The parish is also using this year's 'tree' to raise awareness of issues strongly present during the drought, which affect us all.
People are invited, for example, to choose a nearby "Awareness Thread" and tie it to a branch of the tree.
While any colour can be chosen for any cause dear to them, the display highlights the following causes and coloured threads people may wish to choose:
Anti-bullying (aqua)
All Cancers (light blue)
Mental Health & Natural Disasters (green)
Aids/HIV & substance abuse (red)
Child abuse (dark blue)
Suicide (yellow)
Domestic Violence (maroon)
Service & ex Service members (red Poppy)
While we may dream and sing about a White Christmas this year, here's hoping – and praying – that this year's Christmas comes with the Gift of Rain.