MOVIE REVIEW: Aladdin – an adapted classic for the whole family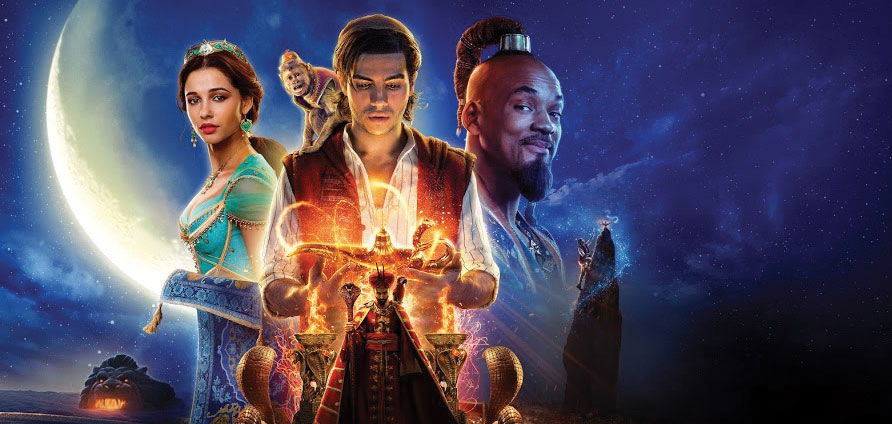 DO YOU remember when kids' movies started to also entertain and appeal to adults?
Pixar's Toy Story was one of the first that broke the rule that children's entertainment was only for kids – now parents (and in my case, Aunties) can attend most PG rated films laughing alongside the youngens at the double entendres, adult refer­ences and throw backs.
This new generations of movie makers do an incredible job of developing perfectly sequenced and flawless (yet complex) entertainment that equally engages people of all ages.
You may have noticed an exciting recent trend classic children's movies and cartoons adaptations complete in 3D, with special affects and even using real life animals (e.g Dumbo, Beauty and the Beast, The Lion King) and they all fit the bill of movies for young and old.
I recently took my four and seven year old nephews to see the live action animation remake of Disney's 1992 animated classic Aladdin. Maintaining the original feel-good inspirational story, the new film follows fast-fingered 'street rat', Aladdin as he meets and falls in love with the disguised Princess Jasmin.
Realising she's a princess and determined to win her heart he helps the evil Jafar (Marwan Kenzari) but then finds himself in possession of a magic lamp and formidable genie (Will Smith). Initially keen to use his three wishes to become the 'Prince Jasmin deserves' Aladdin soon realises courage and loyalty are worth more than money as he fights – together with his trusty monkey and new found magic carpet and genie – to save the Kingdom, his love and her father from the maniacal, power hungry Jafar.
Directed by Guy Richie, Alad­din stars Will Smith who features large as the "big blue guy" (otherwise known as The Genie), Mena Massoud as Aladdin and Naomi Scott as Princess Jamin. Most of the main sequences match the original film as well as some musical favourites (Arabian Nights and A Whole New World) together with a few original songs (Speechless).
While the original film was considered an entertainment masterpiece it was also shadowed by cultural inaccuracies and disrespectful depictions of Arab culture. Director Guy Richie's adaptation does well to mitigate some of the specific issues, with a more reflective cast and stronger introduction of topics around female empowerment, representative government and anti-slavery.
With more colour and pizazz than you can imagine this movie captured the minds of both my nephews. I admittedly filled them with ice cream and popcorn (wipes and tissues at the ready!) from the start, but other than a few questions in the slower (read: love interest) scenes, the effervescent costumes, catchy lyrics and dramatic scenes kept them engaged throughout the 128 minutes. The post screening debrief reflections were very positive including big love for Will Smith.
I similarly enjoyed the remake and many of my 20 and 30 something friends jumped at the opportunity to revisit a classic from their childhood. All con­sistently loved the new imagery, music and live performances. While it might not break any records or change cultures, the new Aladdin is an entertaining movie for the whole family – if a love story can keep my Ninjago watching, Slugterra playing neph­ews entertained it's a winner!
Parents and carers should note the film is more intense than the cartoon with live action (fight scenes with weapons), a menacing 'Cave of Wonders' interpretation and one con­firmed death, but the general spirit of the cartoon remains with the engaging music and positive messages about friend­ship, courage and honesty.
---
Verity Dunn has written a number of movie reviews exclusively for the Catholic Voice, as linked below.