News in Brief
Olympics Unleashed
Olympic freestyle skier Rohan Chapman-Davies visited Sacred Heart Central School, Cootamundra, secondary students this month as part of the Olympics Unleashed program.
Olympics Unleashed connects athletes with schools across the country to inspire students to find and follow their passion and provide lessons in goal setting, overcoming challenges and developing resilience.
Rohan has competed on the world stage for over 14 years, including in the 2018 Winter Olympics in Pyeongchang.
During the visit, Rohan talked about his Olympic journey and overcoming challenges to compete in his chosen sport at the highest level to help inspire the students to be the best they can be – whether that's in school, at home, on the sporting field or with friends.
Year 8 student Jay Lockett said Rohan when Rohan was recovering from an injury, he "was encouraging people to reach their goals and took the time to mentally reset."
---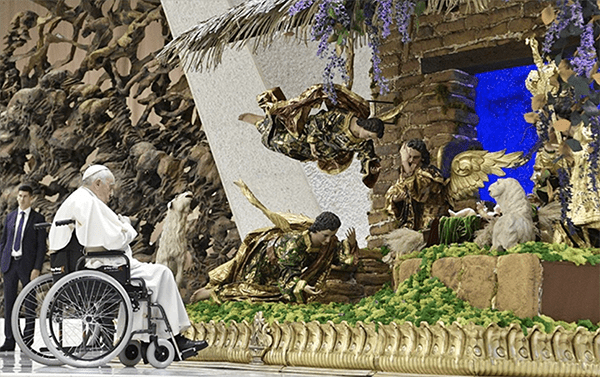 Celebrate Christmas with "Ukraine in your hearts"
Pope Francis has invited people to spend less on their Christmas celebrations this year and donate their savings to help the people of Ukraine. Source: CNS.
As he has done at his general audiences since Russia invaded Ukraine in February, the Pope asked pilgrims and visitors yesterday to express their "closeness to the martyred Ukrainian people, persevering in fervent prayer for these brothers and sisters of ours who are suffering so much".
"Brothers and sisters, I tell you, they are suffering so very, very much in Ukraine," the Pope said.
"I want to draw your attention to Christmas, which is coming, and to the festivities," he said. "It's beautiful to celebrate Christmas and have parties, but let's reduce the level of Christmas spending a bit; let's have a simpler Christmas with more modest gifts."
---
CatholicCare to run early intervention clinic for eating disorders
About 80 young people and their families will be able to access eating disorder treatment and support at a CatholicCare Canberra and Goulburn early intervention clinic to open next year, CathNews has reported.
From February next year, the service will operate from Favier House in the Canberra suburb of Braddon.
CatholicCare Canberra and Goulburn chief executive Anne Kirwan said the service would provide holistic support to young people and their families, with CatholicCare to monitor demand over the first year.
"We have seen an increase in restrictive eating [and] eating disorders over the past 12 months, with young people requiring services to assist with their overall mental health concerns, including eating concerns," she said.
"We have skilled clinicians trained to deliver appropriate services to young people including having undertaken training for eating disorders."
(Cathnews.com)