Polish Olympian auctions off silver medal to pay for toddler's operation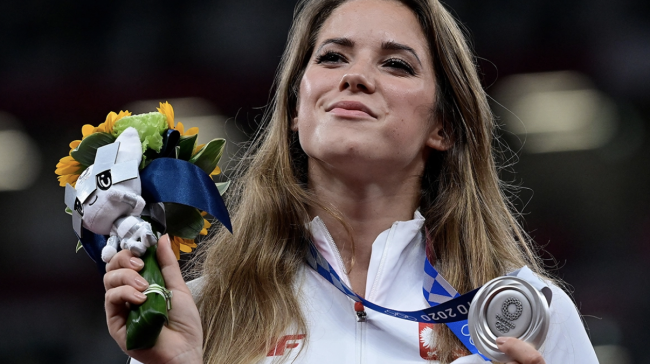 When Maria Andrejczyk gained silver in the Tokyo Olympics javelin event, her medal was worth more than any precious metal. The athlete decided to auction off the medal to help pay for an 8-month-old child's heart operation.
The Polish Olympian has actually survived bone cancer herself after being diagnosed just a few years ago. "I fought like a lioness through a lot of pain and depression." she shared in an interview when she returned home with her medal.
Thankfully, the auction raised a staggering $125,000 that will go towards Miłoszek's operation at Stanford University Medical Center.
"It is with the greatest pleasure that I am handing over to you Żabka, the little big store chain, my medal, which to me is a symbol of faith and perseverance in the face of great obstacles," the 25-year-old shared on her Facebook page.
"The true value of a medal always remains in the heart. A medal is only an object, but it can be of great value to others. This silver can save lives, instead of collecting dust in a closet. That is why I decided to auction it to help sick children."
But in a moving gesture, Żabka, the Polish convenience store chain who'd bought the medal, returned it to the athlete, explaining in a tweet: "We were moved by the beautiful and extremely noble gesture of our Olympian, so we decided to support the fundraiser for Miłoszek. We also decided the silver medal will remain with Mrs. Maria."
The toddler will hopefully receive his surgery as soon as possible as he is said to be in critical condition. He is currently in his native Poland where he is being cared for in a hospice as the defect means his blood pressure gets dangerously high and this has an effect on his arteries in both his heart and lungs, according to NBC News.
Andrejczyk shared in an interview with Onet.Sport before heading to Tokyo how important her religion is to her: "Our parents brought us up in a deep Catholic faith. This faith is very important in my life."
She explained how she owes her success to God and how His "Divine Plan" is behind the athlete she is today:
"I think that everything happens according to God's plan. I pray before every competition."
We pray that little baby Miłoszek will get through his surgery and eventually meet his Olympic hero.