Sisters celebrating five years in the Archdiocese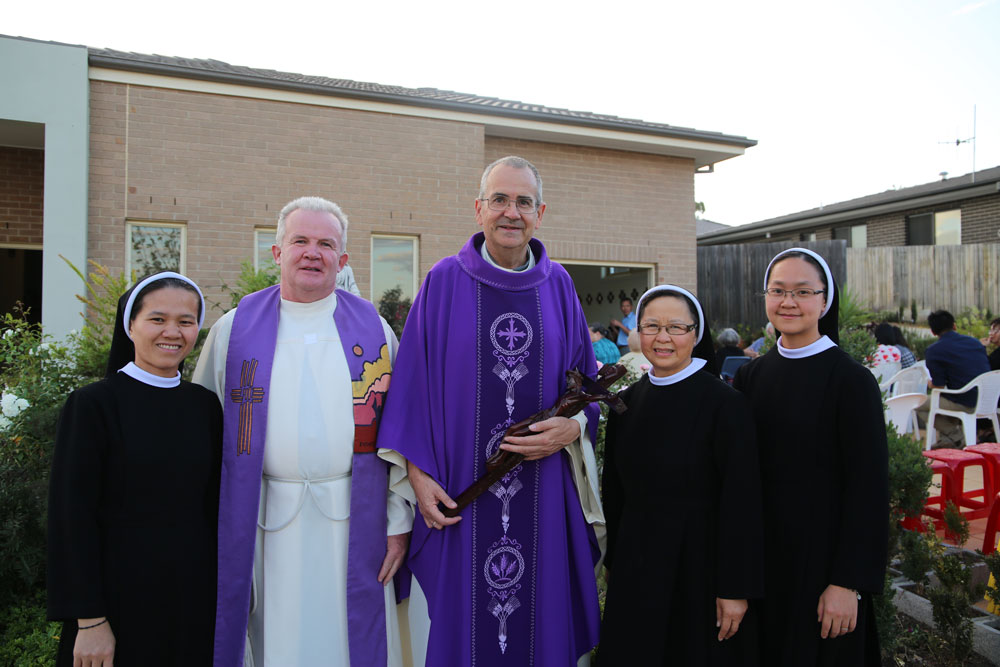 The Sisters of the Congregation of Mary Queen of Peace established a religious house in the Archdiocese of Canberra and Goulburn in 2012 and this was opened on 8th March 2014. The purpose of this house was threefold:
To establish a permanent presence of the congregation in the Archdiocese of Canberra and Goulburn.
To provide assistance to the people living in Archdiocese of Canberra and Goulburn through our work.
To provide a place for the sisters from Vietnam to come to Canberra for a period of study /or work experience after which they would return to work in the Diocese of Ban Me Thuot. These sisters would be chosen to come by the Congregational Leader and the Council of the Congregation of Mary Queen of Peace.
This year the congregation celebrated five years since the opening of the house which maintains a stable community of three sisters: Sr. Kim, Sr. Tuyet and Sister Minh. This was celebrated on 9th March 2019 and was attended by Archbishop Christopher Prowse
An important element of the congregational work in Vietnam is in in supporting the Binh Minh Schools in Banmathuot and Dong Xoai.
These schools have been providing opportunities for 140 young people between the ages of 3 and 20 who are living with a variety of physical and mental disabilities to gain an education in an environment which provides them with emotional and spiritual care.
The families enroll their children in the program as spaces become available. Priority is given to families with high needs and in the most difficult circumstance. Due to the limited space the schools currently have a waiting list of over one hundred children.
The children attend the school on a daily basis from Monday to Saturday. When they arrive they take a shower, provided with clean uniforms and they are given a midday meal. This care is provided by three religious sisters at each school who provide their services free and three paid childcare workers.
The parents are not required to pay any fees but can make a donation depending on their circumstances. The school is dependent upon benefactors to ensure that this vital service can be provided to poor families in great need.
To support this initiative, visit https://heartsbeatingtogether.weebly.com/
Source: Fr John Armstrong