Students, parents, teachers and plenty of pancakes at St Joseph's Grenfell
The unmistakable smell of pancakes drifts across the schoolyard, and the 41 students of St Joseph's Primary School in Grenfell edge closer and closer towards the canteen.
School principal Melissa Hotham looks on as year six student Jack rings the big school bell for recess.
"The children have really been looking forward to today," she smiled.
"Shrove Tuesday is a significant date on the Catholic calendar, and it is important they understand the meaning. It is increasingly known as Pancake Tuesday in secular society, so we discuss the history… as well as getting to eat pancakes!"
Three school mums have been hard at work in the heat of the kitchen cooking and serving an endless stream of pancakes as the sun blazes down outside.
Belinda Mawhinney, whose son Frankie is in Year 1, said she jumps at the opportunity to contribute to the school community.
"I think having an engaged parent community is really important," she explained.
"Kids start to understand who is part of the broader community, and it helps them feel connected and safe. (The principal) is doing a wonderful job of creating a warm and inviting school for parents to be as much a part of as they choose to be."
"I think it is essential," Mrs Hotham confirmed.
"Parents are the primary teachers of their children, and having parents actively involved in the school community is so important."
Mrs Hotham said strengthening parish and school relationships and encouraging parents to have greater engagement in the school, and their child's learning progress was a key part of the school's strategic plan.
"We are working on this through new initiatives to the school, which include St Joey's Playgroup every Friday, morning tea after Opening School Mass at which we have parents and parishioners join us, and parental engagement such as cooking the pancakes today," she said.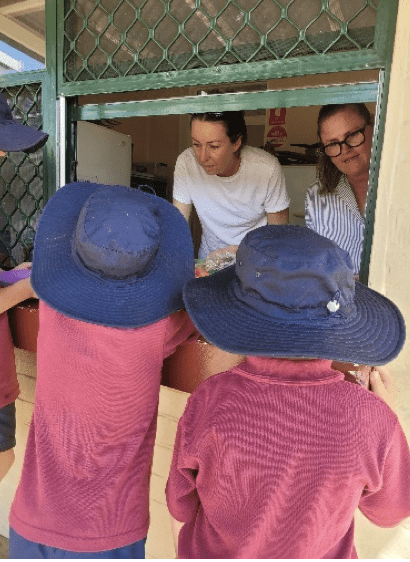 The community has already seen the benefits of such engagement, with nine kindergarten students enrolled this year.
"That is a record for us – the biggest class in a number of years," Mrs Hotham said.
"Around 60 students is the goal. I'd like to get to four classes so we have one for each stage. It is a good number for our facilities as well, and we wouldn't lose that small school feel. It is all about finding the balance."
Back down at the recess tables, Year 4 student Emily finishes a mouthful of pancake and stands up eagerly.
"Is anyone else going back for seconds?" she asks, licking maple syrup from her fingers.
Her friends stand up immediately, plates at the ready.
"Well, we do have to use up all the pancake ingredients today," they grin.
"It's Shrove Tuesday, after all."